Are you ready to put your best face forward? If so, Naomi Campbell wants to see what you've got.
The supermodel is hosting two open calls in New York City and Los Angeles this month to find a bevy of beauties to compete in her new model competition reality show "The Face."
Hopefuls looking to star in the Oxygen Network show, set to debut sometime next year, must be at least 18 years old to audition. And since it is a model search, ladies that are five-feet-seven-inches or taller are specifically encouraged to attend the call.
Stakes are high: the winner will become the face of a "major national brand" (but no word on which one yet).
And while you start practicing your best smile (or smize), make sure you perfect your strut. The audition announcement reads: "Be prepared to give us your best walk as well."
Need some more direction? In a press release about the casting call, Naomi offers up the following info:
"I'm looking for contestants who have the whole package — a beautiful face; healthy, toned body; unique look; interesting personality; confidence; and, above all, strong work ethic and drive. ... Most importantly, I'm looking for a model with a fearless spirit who can completely transform like a chameleon, and take you on a unique journey that makes you believe that even the impossible is possible."
Duly Noted. However, the 42-year-old supermodel isn't scheduled to be present at either of the auditions. Bummer. So we wonder whom Naomi will have selecting her model wannabes?
There's always "America's Next Top Model" jilted judges Nigel Barker, Jay Manuel and J. Alexander. Just saying.
Here's a look at "The Face" casting call flyer and check out Naomi's amazing style evolution in the slideshow below.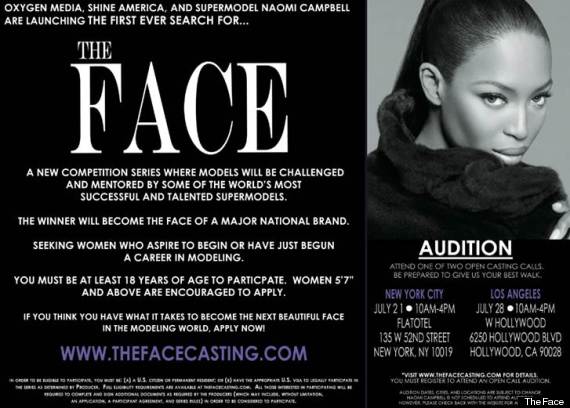 SUBSCRIBE TO & FOLLOW BLACK VOICES
Stay plugged in with the stories on black life and culture that matter. Learn more