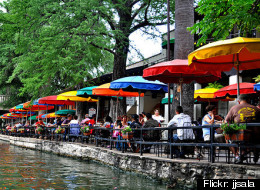 For those Americans who are hesitant to go abroad to make their retirement savings last, there are quite a few U.S. cities where retirees can live comfortably on budget, at least according to a list of "Best Places to Retire on $100 a Day" which will appear in the upcoming August/September issue of "AARP The Magazine."
In crafting its list, the AARP looked to median household incomes and what it calls the "affordability sauce" offered by cities such as Omaha, Nebraska, which has many privately funded parks, arts and sports thanks to its resident "millionaires with a conscience." It also took into account quality of life factors such as the number of sunny days per year and unique cultural and recreational offerings that are still accessible within a $100-a-day budget.
From the AARP:
We wanted to find places where retirees could live well on $100 a day, or just $36,500 a year. At a 25 percent tax rate, that's $27,375 in spendable income, or about $2,281 a month. If we spent about a third of that -- $720 -- on mortgage payments, we could buy a home that costs $192,000. It turns out there are quite a few really wonderful cities where $192,000 buys not just a great home in a great neighborhood, but loads of culture, fun restaurants, and lively entertainment.

Check out the following slideshow for the top 5 places on AARP's list, and visit AARP for the full list of best places to retire on a budget.
The Best Places To Retire On $100 A Day
Vibe: Old West; urban flair Mingle with the natives: By sharing a bike. The city's new bike share program lets you pedal all over town for just dollars a day. Sunny days per year: 227 Best daytime lark: El Mercado (which the city claims is the biggest Mexican marketplace outside Mexico) in Old Market Square. Median home price: $135,000 Local flavor: Brunch at the Mad Hatter's Tea House and Café, with a $10 fishbowl mimosa Impress friends and family with: The endless selection of restaurants and patio dining on the famous River Walk

Vibe: Midwestern cozy with a high-tech spark Secret affordability sauce: Millionaires with a conscience. Thanks to civic-minded executives, private donations fund parks, arts, and sports Mingle with the natives: Hoist a local beer at Mr. Toad's, in the heart of the Old Market area Sunny days per year: 220 Best daytime lark: Seniors pay $12.50 at the world-class Henry Doorly Zoo; don't miss walking the rope bridge in the Rain Forest exhibit Median home price: $123,500 Local flavor: Wheatfields' baked goods rock; so does its senior menu, where a Grandmere Scramble or a Dusseldorf casserole goes for $8.50 Impress friends and family with: The area's numerous start-up companies, earning it the "Silicon Prairie" nickname

Vibe: Contemporary arts meet Western charm Secret affordability sauce: Two-thirds of the county land is public, making recreation a bargain; a recent 20 percent drop in housing prices Mingle with the natives at: The Rockslide Brewery downtown Sunny days per year: 260 Best daytime lark: Wander among the extensive (and quirky) outdoor sculptures Median home price: $159,800 Local flavor: Local vineyards get plenty of press, but make sure you snack on the region's impressive strawberries, sweet cherries, and peaches. (An outlying town is even named Fruita.) Impress friends and family with: The views of the Grand Valley

Vibe: Green not grimy, the city's 88 distinct neighborhoods create a European atmosphere Secret affordability sauce: Stable, diverse economy--since 2008, only Austin and Houston have added jobs faster Mingle with the natives at: Frick Park, in the city. In the summer, check out the Bowling Green (lessons are free for beginners) and in the winter, sled down the hill near Beechwood Boulevard Sunny days per year: 161 Best daytime lark: PNC Park, home of the Pirates, ranked as the No. 1 baseball field in the country by ESPN. Bleacher seats from $14 Median home price: $106,500 Local flavor: Eggs and kielbasa for breakfast at DeLuca's in the Strip district Impress your friends and family with: The view as you emerge from the Fort Pitt Tunnel. The New York Times once pronounced Pittsburgh "the only city with an entrance."

Vibe: Funky hippie meets world traveler. Secret affordability sauce: The country's sixth largest college--The University of Florida--fuels an economy more durable than most Southern cities. Mingle with the natives at: The Swamp, aka UF's Ben Hill Griffin Stadium. Tim Tebow isn't the only person to get fit running up and down the stairs here. Walk or run all you want--for free. Sunny days per year: 242 Best daytime lark: At the Florida Museum of Natural History, seniors pay $9 to watch butterflies released into the Butterfly Rain Forest Exhibit Median home price: $125,500 Local flavor: A Cuban sandwich ($8.95) at Emiliano's Café, a pioneer in the pan-Latin food movement. Impress friends and family with: The dense urban canopy, where Northern hardwoods meet Southern tropics.