Denver Broncos defensive end Elvis Dumervil was arrested and charged with aggravated assault with a firearm in Miami Beach, Fla. over the weekend.
The photo is interesting because it shows the front of Dumervil's shirt untucked and hanging over his shorts ... relevant because the alleged victim had told police Elvis and another man both approached her car and lifted their shirts to show they had guns tucked into their waistbands.
A 911 call recording recently obtained by 7News describes the confrontation. Aretha Williams, a greeter at a nearby Victoria's Secret store called 911 when she saw a gunman, who she describes as African American, pointing a firearm at another person in what she calls a traffic dispute. It is unclear if Williams is describing Dumervil or his co-defendant Andy Aguste, who is also accused of brandishing a gun during the alleged road rage incident.
LOOK: Dumervil untucked and cuffed at scene of alleged road rage assault, image via TMZ.com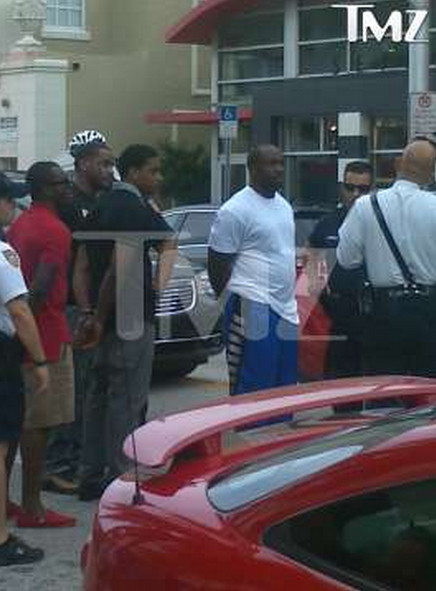 ALSO ON HUFFPOST:
Elvis Dumervil Arrested In Miami
SUBSCRIBE TO & FOLLOW THE MORNING EMAIL
The Morning Email helps you start your workday with everything you need to know: breaking news, entertainment and a dash of fun. Learn more