MTV isn't exactly known for telling stories about the plight of homeless teenage immigrants and the transformative power of art. But that's about to change!
On August 17th (10:00 p.m. ET/PT), the network that brought us "The Jersey Shore" and the more recent spinoff, "Snooki and JWOWW," will air the premiere of Shine Global's award-winning documentary "Inocente," a heartbreaking film that tells the story of a resilient 15 year-old Latina named Inocente who, as an undocumented homeless immigrant, refuses to surrender to the bleakness of her surroundings and steadfastly pursues her dream of becoming an artist.
Although the young Latina star of the documentary is unique as an artist, her story, sadly, isn't so unique.
According to the National Alliance to End Homelessness, there are about 1.7 million homeless youth under the age of 18 in the United States. To date, this country continues to have the largest number of homeless women and children of any industrialized nation. MTV is hoping that the film, which won the "Best Documentary Short" at the 2012 San Antonio Film Festival, will help shed a light on current issues of immigration and homelessness in America, by putting a human face on those issues.
That face, is the face of "Innocente," whose father was deported for domestic abuse, and who has since, year after year, moved from homeless shelter to homeless shelter, while also facing the constant threat of deportation. The documentary is told entirely in her own words, and shows how the young Latina survives and overcomes numerous obstacles through the healing power of art.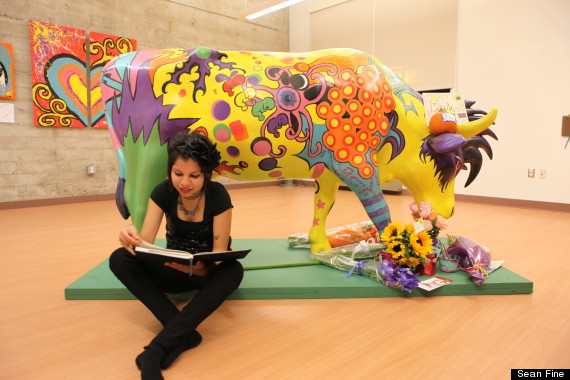 "'Inocente' poignantly captures the beauty and strength of a young woman who refuses to let her surroundings define her," said Chris Linn, Executive Vice President of Programming and Head of Production for MTV. "We're thrilled to premiere this documentary and hope it not only continues the dialogue on youth immigration and homelessness, but serves as an inspiration to those struggling to overcome obstacles in pursuit of their dreams."
And Albie Hecht, the co-founder of Shine Global, the nonprofit filmanthropy organization distributing the film, adds: "MTV is the perfect partner for 'Inocente.' The network can activate an audience of millions of young adults and teens who can make an impact on these critical issues."
For more information on "Inocente" and the issues explored in this documentary head to Inocentedoc.com.

Will you be checking out "Innocente" on MTV?
CHECK OUT THIS SLIDESHOW OF DREAMers TAKING A STAND
Fermin Vasquez serves as the statewide Communications Coordinator for Californians for Justice. One of Los Angeles' youngest emerging Latino leaders, Fermin was a Front Line Leaders Academy Fellow with the People for the American Way Foundation, based in Washington D.C. In 2010, Fermin became the first one in his family to graduate from college, and received his degree in Political Science from California State University, Los Angeles. He was also a founding member and President of Students United to Reach Goals in Education (S.U.R.G.E.), a support and advocacy organization for those that may not have come here with the right papers, but have been raised with the right values. He is a contributor to the HuffPost LatinoVoices DREAMers Blog Series, and his posts can be read here.

Laura E. Enriquez is a doctoral candidate in sociology at the University of California, Los Angeles where she does research on the experiences of undocumented young adults. She is a dedicated scholar-activist and specializes in immigration, race/ethnicity, and gender. She has been mentoring, teaching, and organizing with undocumented young adults for the past five years. She is a contributor to the HuffPost LatinoVoices DREAMers Blog Series, and her posts can be read here.

Fernando Romero is the Coordinator for the Justice for Immigrants Coalition of Inland Southern California; he is also a co-founding member of Dreamers Adrift, a new media project for undocumented students, by undocumented students. He is a contributor to the HuffPost LatinoVoices DREAMers Blog Series, and his posts can be read here.

Alma Castrejon was born in Mexico City and came to the United States at the age of seven. In 2008, she graduated from UC Riverside with B.A. degrees in Political Science - International Relations and Chicano Studies. While at UCR she founded Providing Opportunities, Dreams and Education in Riverside (PODER), a support group for undocumented students on campus. In 2011, Alma received her Master of Arts degree in Education at CSU Long Beach. She has been a member of Dream Team Los Angeles (DTLA), a community and student group that advocates for undocumented student rights and immigrant rights, since 2009; she is also an active member of Graduates Reaching a Dream Deferred (GRADD), a group of undocumented graduate students that addresses the needs of immigrant students interested in pursuing graduate education. Alma will be applying to law school in the fall of 2012. She is a contributor to the HuffPost LatinoVoices DREAMers Blog Series, and her posts can be read here.

Juan Escalante is an undocumented student and recent graduate from Florida State University. He is a core-member of DreamActivist.org and the founder of DreamActivistFL.org; both are online organizations that provide resources for undocumented students across the country. He is a contributor to the HuffPost LatinoVoices DREAMers Blog Series, and his posts can be read here.

Nancy Meza is a human being from Jalisco, Mexico. She was brought to the U.S. by her responsible and courageous mother at the age of two and proudly grew up in East Los Angeles California. She is a graduate of Theodore Roosevelt High School in Boyle Heights. After High School she attended East Los Angeles Community College and transferred to UCLA where she became actively involved in organizing around undocumented and immigrant rights issues with IDEAS at UCLA and Dream Team Los Angeles. She graduated with a degree in Chicana/o Studies and a Labor and Work Place Studies minor in 2010. She is currently an intern at the Dream Resource Center; a project out of the UCLA Labor Center and continues to organize with Dream Team Los Angeles where she is a member of the media and communications team. She is a contributor to the HuffPost LatinoVoices DREAMers Blog Series, and her posts can be read here.

Erick Huerta is majoring in journalism at East Los Angeles College. As a member of Dream Team Los Angeles, he is one of the coordinators handling the group's communications and social media endeavors. He has lived in the U.S. for the past 20 years and has been chronicling his personal experiences as an undocumented resident for the last eight years on his personal blog. He's also a community reporter for the community of Boyle Heights and an avid cyclist. He can be recognized by his trademark bigotes. He is a contributor to the HuffPost LatinoVoices DREAMers Blog Series, and his posts can be read here.

Jonathan Perez is a queer undocumented political exile from Colombia, and a Co-Founder of the Immigrant Youth Coalition in Southern California. On why he contributes to the series, he writes, "It is shocking to most, but I don't actually advocate for the DREAM Act. I organize for the rights of undocumented immigrants. I believe that in order to have meaningful changes we must first address the root causes. In order to change our realities we have to build a global movement and a global revolution. I write for the Huffington Post DREAMers Blog Series because it gives me the opportunity to give a different perspective to what the issues of undocumented people are." You can read his posts here.

Originally from Naranjo, Alajuela, Costa Rica, Mayra immigrated to the United States with her family when she was 6-months-old. She is undocumented and has dedicated her life to the immigrant movement in Florida. She lives in Lakeland, Florida where she is an organizer for Students Working for Equal Rights (SWER), a grassroots organization founded by undocumented immigrant youth in Florida. She also serves on the Florida Immigrant Coalition (FLIC) and United We DREAM (UWD) Board of Directors. She helped start an immigration legal clinic that offers free legal immigration consultation to low-income immigrants in her community and serves as the Clinic Coordinator. She also serves as the Migrant Scholar Advocate for Scaffold the Scholar, a professional development initiative for former farm-worker women working in early childhood education and is a member of the Polk County School Board Diversity Council. She was a project manager for the Trail of Dreams campaign in 2010, a 1,500 walk from Miami, FL to Washington, D.C., demanding that President Obama stop the deportation of undocumented students. Currently a undergraduate college student, she aspires to eventually earn a law degree specializing in immigration law so she can continue to serve the community that taught her to persevere against all odds.

Jesus Cortez is an undocumented graduate student at the California State University, Long Beach College of Education. He grew up in Anaheim, California and is a member of the Orange County Dream Team. He is a contributor to the DREAMers Blog Series, and his posts can be read here.

Angy Rivera is a Colombian-born, New York-raised undocumented immigrant who started the first undocumented youth advice column, Ask Angy, while a core member at the New York State Youth Leadership Council. She also blogs for DreamActivist.org.