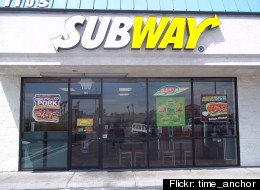 The Telegraph reports that Subway is in early talks with a U.K. school to open a lunch counter for students inside the building.
An administrator was inspired to speak to the chain after he realized that students were visiting a nearby Subway during lunch, according to the Daily Mail.
While a school might seem like a strange location for a Subway, Subway is known to have several unexpected locations. Last year, Nation's Restaurant News rounded up 10 non-traditional Subway locations which included a riverboat cruise, a hospital and a car wash.
And, in fact, there are other schools that currently serve Subway sandwiches. Last year, Subway made a deal with schools in Juneau, Alaska. Cold sandwiches are offered to students.
The U.K. is Subway's largest market outside of the U.S.
Photo by Flickr user: time_anchor