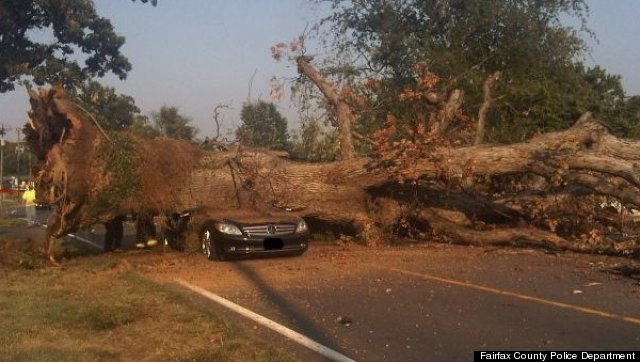 WASHINGTON -- A 40-ton tree fell on 2008 Mercedes CL600 Tuesday night killing a 64-year-old man driving on Georgetown Pike in Great Falls, Va.
"That tree has been a problem waiting to happen," Vic Price of Vic's Tree Service of Great Falls tells WTOP.

"It had no leaves. It had no root system to speak of. Gravity was going to take it down. In a busy area like that, I love trees as much as the next person, but sometimes they need to come down," he says.
"The tree was on his head. All you could see was the neck, his shoulders and his pink shirt. I didn't see anybody else in the car," Tremaine recalled.
Happened 2 blocks from my house.. Awful scene. Guy just coming home from work going westbound right in front of the firestation. Nothing could of saved him. 100ft 40 TON RED OAK with a trunk 6ft in diameter. The huge Road Runner crane that lifts 18 wheelers couldn't even budge it. They brought in an additional hydraulic jack that lifted it enough to yank the car out 4 hours after it had fallen.. extremely ghastly sight when they pulled the car away. It looked as if half of Fairfax County Fire & Rescue were there. Awful scene and prayers to the family who more than likely lost their bread winner tonight. Enjoy today.
WRC-TV/NBC4 reports that another tree near the site of the accident "was found to be decayed at the roots and will be removed."
In the video below, a tree expert talks with WTOP's Neil Augenstein:
SUBSCRIBE TO & FOLLOW THE MORNING EMAIL
The Morning Email helps you start your workday with everything you need to know: breaking news, entertainment and a dash of fun. Learn more