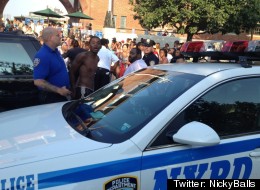 As the heat wave continues, another fight broke out at the McCarren Park Pool Monday, prompting the NYPD to use pepper spray to try and quell the chaos.
A witness described to The Daily News:
There was a complete breakdown of control. It looked like these kids were running the show. Then something obviously happened - he tried to resist arrest maybe - and they forced him to the ground. Then a group of people come rushing in and that's when the cop used mace. There was a palpable tension in the air. It was a really tense, unpleasant situation.
Swimmers were again irritated by lifeguards' demands to stop doing back-flips into the pool. Backflips were at the center of the last two pool shutdowns, with unruly teens refusing to abide by the pool's strict, no back-flip rules.
However on Monday, it wasn't teenagers wreaking havoc at McCarren Park but three grown men, including one 23-year old and two 24-year olds, all of whom were slapped with resisting arrest and disorderly conduct charges.
23-year old Antquan Lomax received an additional charge of pushing an NYPD official.
Before the fight Monday, a cop told Prospect Heights Patch that the pool was safe. "There will be no issues there—there are a lot of police," she said.
McCarren Park Pool recently reopened after a $50 million renovation and a grand opening ceremony officiated by Mayor Bloomberg and parks commissioner Adrian Benepe.
See photos from the opening below: