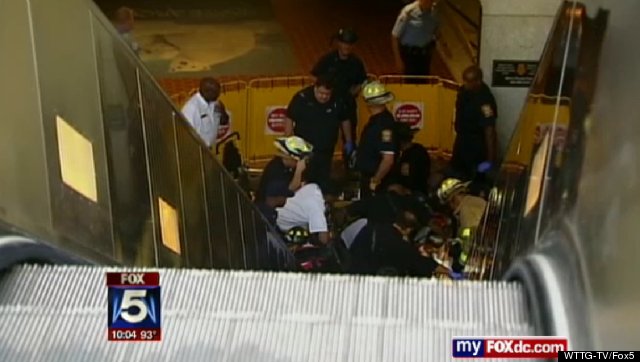 WASHINGTON -- A Canadian teenager's hand got stuck in a Metrorail escalator on Tuesday evening when the 14-year-old tried to dislodge his flip-flop that had also gotten trapped in the moving stairway at the Smithsonian station.
WTTG-TV/Fox5 reported it took about 40 minutes for emergency personnel to free the teenager, who had four fingers stuck in the escalator's comb, a piece at the bottom of escalators where moving steps disappear and return to the top. WTTG-TV reported that the teen, visiting the nation's capital, remained "stoic" during the incident.
Metro described the teenager's injuries as not life threatening and the transit agency shut down the escalator to start an investigation.
Following Tuesday night's incident at the Smithsonian station, Metro reiterated its warning about the potential dangers of wearing flip flops on Metro escalators, especially on hot days when rubber and other soft materials are more likely to sink into escalator steps.
As The Washington Post reported last year, flip-flop escalator incidents are an unfortunate summer tradition for Metro:
Every summer, Metro officials say they see an uptick of incidents where riders get their shoes caught in one of the transit system's 588 escalators. Rarely are there serious injuries other than maybe a stubbed toe or scrape.

But flip-flops are a special enemy of the moving staircases. Thinner soles make the summer footwear especially susceptible to getting caught, said Ken Sundberg, Metro's assistant chief safety officer.

"The lip of your flip-flop may get stuck if you don't carefully take the time to pick your feet up when you get to the top or bottom of an escalator," he said. The shoes can get caught in a "comb," a mechanism at the bottom that's meant to trap debris, he said.
DC Breaking Local News Weather Sports FOX 5 WTTG
SUBSCRIBE AND FOLLOW
Get top stories and blog posts emailed to me each day. Newsletters may offer personalized content or advertisements.
Learn more