Pup Direction's 'One Bark': A Hilarious One Direction Parody (WATCH)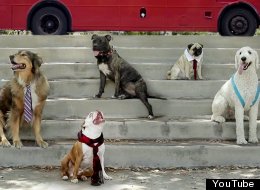 Move over, Corgi Rae Jepsen -- you're no longer the most musical pooch in town. A new doggy band named "Pup Direction" has covered One Direction's hit single "One Thing" with their own aptly-named rendition, "One Bark."
The Pet Collective, the animal-loving team behind Corgi Rae Jepsen and Pawdele, recreated the original One Direction music video, matching everything from the beat of the music to the set. Now that's something to bark at.
(H/T Buzzfeed)