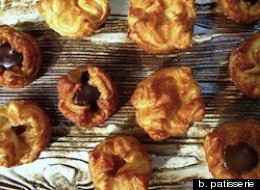 It's the American Idol of San Francisco street food.
In preparation for the 2012 San Francisco Street Food Festival, one of the city's most authentic and popular food festivals, Whole Food and La Cocina are peeking into San Francisco kitchens for the next street food star.
Through an online competition dubbed the Local Forager Contest, more than 40 home cooks, bakers, picklers and hot sauce makers have dropped their names in the hat to be chosen for Street Food Festival fame. Wish you were in the contest? THERE'S STILL TIME.
(SCROLL DOWN FOR NOMINEES)
Four lucky winners chosen by reader votes (vote here!) will be invited to participate in this year's street festival with a free booth, prep time at La Concina, logistical support from La Cocina staff and a meeting with the Whole Foods marketing team.
Searching for the next gelato all-star? Craving some spam and pork belly musubi at a food truck near you? Can't wait to get your hands on some homemade Sriracha ketchup? (Yes, oh yes, this is real.)
Flip through our slideshow to check the competition, and vote for your favorite on the San Francisco Street Food Festival website.
San Francisco Street Food Festival
Sells: Artisanal Funnel Cakes with various toppings, made from organic/ and or local ingredients

Sells: Original Vietnamese bánh mì sandwiches, rice dishes and waffle desserts. Our food highlights different regions of Vietnam and South East Asia. Why? Our mission is to show San Francisco that Vietnamese food extends outside a bowl of pho. Vietnam is a country that lives off delicious eats served street side and we want to highlight those foods. Inspired by San Francisco's appetite for unique street food, we do our best to share our sandwiches, rice dishes and desserts with the community. We cater, serve at local events, bars, art walks, and offer sandwich delivery by bicycle!

Sells: Banh mi - Vietnamese sandwiches with Caramelized Pork Belly or Vegetarian/Vegan "Smoked Duck." Our twist? Our housemade fillings- the chicken pate, mayo, beet-stained daikon pickles-are combined with cilantro and jalapenos to create a handcrafted banh mi.

Sells: Frozen Custard made with natural, local, and organic ingredients. Frozen Custard is a unique frozen dessert that is similar to ice cream, but made with a higher egg yolk content and less overrun (inflation).

Sells: Bak Kwa - a Southeast Asian Charcuterie - originated from Singapore & Malaysia. Made from domestically sourced meat, which are grind and marinated with organic spices, then slowly grilled. It is 100% all natural, authentic and a healthy source of protein.

Sells: Sumptuous traditional and imaginative pizzas, pastas and small dishes with fresh ingredients usually sourced from community farmers markets.

Sells: Salvadoran Pupusas

Sells: Delicious California Twist on the traditional Hawaiian Spam and Stewed Pork belly Musubi

Sells: Irish and Eritrean cuisine from A food truck. We sell traditional shepherds pie to doro wat and fused corned beef wraps.

Sells: Freshly popped Organic classic Kettle Corn

Sells: Schulzies is a reinvention of the classic bread pudding dessert in 108 flavors - no two alike - including a variety of chocolate, fruit and seasonal inspired flavors.

Sells: popsicles! With respect to farms, flavor, and fun.

Sells: LickPops are handmade organic ice pops from locally sourced ingredients.

Sells: Hot Sauce & Salsa

Sells: Ice Cream Bars

Sells: Sosu Srirachup™ Sliders. Grass-fed beef sliders served with house-made asian pickles and Srirachup™, on a King Hawaiian roll. The Srirachup™ Slider is an Asian-spin on the classic slider.

Sells: Delicious Korean/American food.

Sells: Tea Smoked Salmon with Brown Rice and Cilantro Ginger Sauce, Texas BBQ Beef, Cole Slaw, Potato Salad, Double Chocolate Chip Cookies (Gluten and Gluten Free), Ice Tea and Fresh Squeezed Lemondae.

Sells: We sell sweet and savory pies using all organic, seasonal, local ingredients.

Sells: Fresh, gluten-free bread, local-produce-inspirerd, delivered by bicycle

Sells: Food from the Caucasus Mountains in Central Asia. Treats from former soviet republics of Georgia and Uzbekistan. Puri's and grilled meats from a hand made tandoor oven and fermented vegies and drinks.

Sells: dessert!

Sells: high quality, hand-crafted bubble tea

Sells: Delectable Dosas: Indian Crepes

Sells: Whole-grain cookies made with primarily organic & local ingredients

Sells: Kouign Amann

Sells: cupcakes

Sells: Best Tamales in Town!

Sells: Tacos, burritos, and banh mi/tortas Carnitas with a hoisin based sauce and pickled vegetables Tongue n Cheek with a Madras curry sauce Pork Belly with Siamese peanuts Veggie bean "Succotash" with seasonal veggies and ginger, garlic, and scallion

Sells: Smoked BBQ

Sells: Hawaiian Style Caramel Popcorn: Bacon, Seaweed, Li-Hing Mui, Hibiscus, Chocolate Banana, Oreo Cookie.

Sells: Import waffles directly from Belgium as well as authentic Belgian hot chocolate

Sells: Sweet & Spicy Beef Short Ribs Five Spice Chicken Coconut Cuties Dessert

Sells: vegan street food

Sells: Ayurveda Food

Sells: The best chicken tikka masala ever and other things

Sells: All Natural and Fresh Ingredient Hotsauce

Sells: delicious, simple, comfort californian food. For this event, I would sell my newest creation, what I call the Lamb Won Ton. (Pictured)

Sells: Carribean Food

Sells: Preserved food from neighborhood gardens and orchards

Sells: chutneys, relishes, marmalades, jams, & jellies

Sells: Grilled cheeses, soup shots, grilled peaches, iced and fried pickles, desserts

Sells: Local Handcrafted Tempeh Ruebens (organic ingredients- handmade saurkraut)

Sells: The Kraken...2 lemon pepper/garlic soft shell crabs, pickled ginger, fried egg, asian slaw, sriracha sauce, bacon, roasted seaweed and avocado wasabi on a toasted brioche bun.

Sells: Ready to eat lumpia. We serve a lumpia that is bigger and a little different than the Filipino lumpia. We are Chamorro so it's a Guamanian style. We have cheese in some of our lumpias.