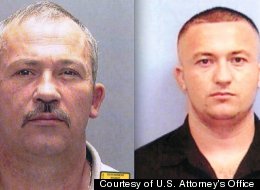 PHILADELPHIA -- A Ukrainian man convicted of racketeering in what prosecutors say was a scheme to smuggle desperate villagers into the United States to work in bondage has been sentenced in Philadelphia to 20 years in prison.
Thirty-eight-year-old Stepan Botsvynyuk (bohts-VEE'-nyack) was acquitted of extortion last fall. He was ordered on Tuesday in federal court to spend three years on supervised release after his sentence.
His 52-year-old brother, Omelyan (OH'-mel-yahn) Botsvynyuk, was sentenced Monday to life in prison plus 20 years.
Prosecutors say the two forced crews to work long hours cleaning stores, homes and offices in Pennsylvania and other mid-Atlantic states for little or no pay.
Defense attorneys say the workers testified only to get special visas set aside for trafficking victims and to avoid returning to Ukraine.