Identical twins have a special place in legend and lore, sharing a bond that supposedly enables them to sense each other's thoughts and emotions in a way that ordinary siblings cannot. But a Brazilian urban art duo is showing that the myth may have some truth to it.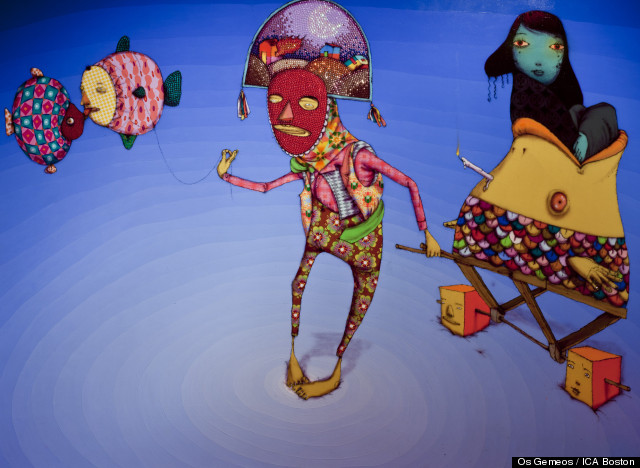 No Fundo De Mar E Respirar Mas Facil (In The Depth Of The Ocean It's Easier To Breathe), 2012. Mixed media on panel. 72 7/8 x 108 1⁄4 x 4 inches. Private Collection. Courtesy of the artists.
Otavio and Gustavo Pandolfo, better known by their collective name, Os Gêmeos (the Portuguese word for "twins") claim to be inspired by colors and images that appear in their shared dreams. The graffiti duo are identical twins with identical visions who have become prominent figures in the Brazilian street art scene. And this summer, they are embarking on their first solo exhibition in the United States. The brothers will showcase their dreamscapes in the form of paintings, sculpture and installations at the Institute of Contemporary Art in Boston beginning on August 1st, 2012.
The twins began their street art career in the late 1980s when hip-hop entered into Brazilian culture. They were inspired by the new music genre and images of young graffiti artists associated with it, and began creating their own, New York-style murals. Without access to quality spray paint though, the brothers turned to house paint, using brushes and rollers to imagine an entirely unique method of Brazilian graffiti. In the early 1990s, the brothers encountered the urban stylings of Barry McGee, an artist whose career pushed the duo to abandon their positions as bankers and focus solely on creating their art. And the decision to quit their day jobs has paid off, as the two have become two of the most prominent public art figures in Brazil, famous for their large-scale murals and adornment of public transportation.
Most of the works that will be on display at the ICA are mixed-media on panel, emphasizing the artists' attention to details of texture and pattern in their dually-envisioned creations. The subject matter of the works ranges from surreal figures with removable faces to folkloric characters representative of rural Brazil, all seeking to encompass the chaos and vibrancy of the brothers' daily lives in Sao Paulo. Also present are the yellow-tinted figures that the twins claim are reoccurring characters in their collective dreams. Primary to their giant urban paintings, the characters take the form of graffiti artists themselves, carrying bags of spray paint as they move through the tunnels of public transportation. To complete the exhibition, the artists' will also paint a large-scale, site-specific mural, bringing the pride and fantasy of their public displays in Brazil to the streets of Boston.
Check out a preview of the brothers' exhibit at ICA below along with images from "Os Gêmeos" the book!
Os Gêmeos Present First Solo Exhibit At Institute of Contemporary Arts in Boston
SUBSCRIBE TO & FOLLOW CULTURE SHIFT
Every Friday, HuffPost's Culture Shift newsletter helps you figure out which books you should read, art you should check out, movies you should watch and music should listen to. Learn more