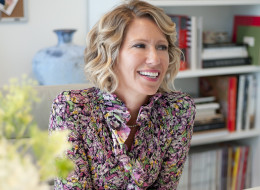 Last week on HuffPost Style, we discussed the one item we each couldn't fathom spending a lot of money on. So I had to pose the same question to Lucky Magazine's editor-in-chief Brandon Holley when I met with her in her Conde Nast office last week. "Yeah, well....." she paused, "skirts." It was a definitive answer: "Pants? Yes. But, I don't buy statement skirts. But then I saw an editor in this building in a great print skirt today and I'm like 'I need to buy that!'"
Of course, there's pretty much nothing in the world of style that Holley doesn't "give a hoo-ha about," after all; she helms the country's only magazine dedicated to shopping. In the year and a half she has been at Lucky (Holley replaced the magazine's founding editor Kim France), she has increased the digital presence of the Lucky brand to include the Lucky Style Collective, the Lucky Fashion and Beauty Blog Conference (known as FABB) and has plans to launch a shoppable digital version of the magazine soon.
This intersection of print and digital mediums reflects Holley's previous and diverse experiences as editor-in-chief of Yahoo! Shine, founding editor of ELLEgirl, editor-in-chief of Jane and positions at magazines such as GQ, Time Out New York, New York, Spin and Paper. "I missed a lot about magazine making when I was at Yahoo!," she said, "so it's kind of great to be back again."
And, as someone who loves shopping, Holley has found the right place to combine her innovative web experience and her passion for creative photography. "If you buy Lucky and you're not in the mood to shop, you're going to be so unhappy." Holley explained, "I compare it to Cigar Aficionado; it's an enthusiast magazine." Pointing at the September issue's layout on the wall by her desk, Holley demonstrated just how much she loves to shop. "I want these gloves, I am going to buy that shirt, this tunic..."
Although she's fantastically well-dressed (see the patterned Balenciaga blouse below, for example), don't expect to see Holley become the next Fashion Week Street Style Star. She exclaimed, "Oh my God. No, that is so not me." Explaining, "There's a way to avoid that -- and I actively avoid it: it's by wearing black. Do not wear pink tights, do not put on a top knot, do not wear neon. When you wear something funky, they [the photographers] stop you more, which I just find harrowing."
But still, Holley's persona is a part of the magazine. "Lucky has always had its editors on the pages, so now they just get a bigger presence," she explained on the way she incorporates social media into the overall brand. "I don't mind doing TV or being interviewed. I'm fine with it. I don't mind doing social things and the red carpet, which is really fun and easy, but posing for portaits... I don't love sitting in front of a camera. I'm more behind the scenes."
Fortunately, Holley obliged and let us photograph her. Take a peek at the photos in our gallery to see inside her Times Square office including her inspiration board which includes photos of her 4-year-old son in Montauk, her recently departed horse Relocator, reference materials and more.
Want more? Be sure to check out HuffPost Style on Twitter, Facebook, Tumblr and Pinterest.
Inside Brandon Holley's Office (PHOTOS)
"I've already shopped this issue already. I shop it right before it goes live." (All Photos: Raydene Salinas/AOL)

"We talk about shopping and we're girly."

"It's not like [street style photographers] are chasing me down or anything."

"I missed a lot about magazine making when I was at Yahoo! so it's kind of great to be back again."

How would you describe your personal style, "Tomboy derived, and... how would you describe me? It's definitely tomboy. Maybe it's like if Jodie Foster grew up. Like the girl in 'Taxi' grew up."

"My son in Montauk."

"We had this girl in the magazine and I said she should illustrate 'Dear Lucky,' so she wrote me this note and now she's our illustrator and part of our family."

"I'm trying to buy color which is why I have this one today. It's time to not be dressing in black. I find when I am in meetings and everyone's dressed in all black it really bums me out."

"The magazine is where the editors rule and the website is where the editors get to play but the users start to rule."

"This is my horse that just died last week. I had him for 15 years. He was 22 years old and these thoroughbreds, their hearts go because they are so stressed as babies. That was the highest course we jumped together. Ideally there would be people in the stands."

"All my Lanvin stuff I've bought over the years I wear over and over again. My Helmut Lang suits I bought in '98 I still wear. When designers make classic clothes, I never get rid of them."

"This Lanvin dress I have had for 11 years and I still wear it to events. I bought in 2001. This Prada thing I bought in 2003 and still wear it. I don't know what they are doing in here actually. "

"I always buy dresses, but Lucky is a place of separates, of mixing and matching, so Anne Keane, our fashion director, is going to come to my house and we're going to play closet cut throat and she's going to throw out everything that doesn't work. "

"I obsess on my shoes but I don't like go crazy. I buy pairs that I really love."

"I don't know if you remember this book, but we were thinking of doing something on Pinterest, it's fashion people who sent in when they were themost fashionable. But the pictures are kind of awesome."

"A lot of these books are from Dashwood."

"We're the second biggest fashion brand on foursquare after Louis Vuitton. I think that's a natural thing because people check into stores now to see what Lucky editors picked."

"Readers know they are going to buy themselves something. It's not lose 10 pounds or better sex."

"Right now my Pirelli calendar is out, because we were using it."

"I'm careful about what I buy, this was the exception. I bought this a year ago at a Balenciaga sale and I didn't wear it and I made myself wear it today. I think I could use a bit more silly buying. Like I should be a little more impulsive."

"We're constantly referencing different photographers. I like finding art photographers who enjoy doing fashion and its fun to work with them when you start to pull out these references. Like William Eggleston, what a great thing to talk about with a photographer."

"I would like to do something on Mariopol."

"I have been going a lot to ASOS, I love The Hairpin, The Awl, Brooklyn Blonde, P.S. I Made This..."