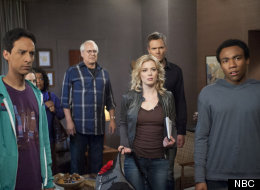 Although the TV Academy apparently still lacks discernment in the acting, drama and comedy categories (no "New Girl"? No Hugh Laurie? No Ron Effing Swanson?), we were pleased to see "Community" getting some love in the writing department when the 2012 Emmy nominations were announced on July 19.
The genius Season 3 episode, "Remedial Chaos Theory," was given a well-deserved nod in the Outstanding Writing for a Comedy Series category alongside "Girls," "Louie" and "Parks and Recreation." The episode was written by Chris McKenna, not departing showrunner Dan Harmon, which means even if the show wins, we'll be denied a triumphant televised farewell from "Community's" controversial -- but undeniably talented -- creator.
The show has only been recognized once before by Emmy voters -- in 2011 for "Abed's Uncontrollable Christmas," which won a Creative Arts Emmy for Animation. Despite a tumultuous run that has seen Harmon and star Chevy Chase engaged in a highly publicized feud, the show has remained a critical darling, with HuffPost TV's Mo Ryan dubbing it "smart and inventive."
The cast were vocally opposed to Harmon's exit; in the show's Comic-Con press room, Joel McHale admitted, "Dan created the show and gave me the job of a lifetime and I think it's the greatest show in the history of television ... I wanted Dan back, but obviously a lot of stuff changed." Still, both cast and the new showrunners (David Guarascio and Moses Port) seem enthusiastic about the new season.
"A couple of months ago, we were a lot like you: just huge fans of the show who thought it was one of the most special things on television," Guarascio said at the Comic-Con panel. "Suddenly we're here, helping to keep it going. The only thing we care about is keeping it this weird, wonderful gem that it's always been. That's not gonna change."
Do you think "Community" deserves more Emmy recognition? Will you keep watching without Dan Harmon as showrunner? Weigh in below.
2012 Emmy Nominations Snubs And Surprises
Although leading lady Amy Poehler nabbed an Outstanding Actress in a Comedy nomination, the beloved NBC ensemble comedy, which really hit its stride in Season 4 as Leslie ran for Pawnee city council, was passed over by the likes of "Veep" in the Outstanding Comedy Series category.

Patinkin's intense performance as CIA agent Saul Berenson on "Homeland" went unrecognized in the Outstanding Supporting Actor in a Drama Series category, while both "Breaking Bad" and "Downton Abbey" had two actors nominated for that honor. It's a shame Patinkin was crowded out.

A longtime juggernaut in the category, "American Idol" was not nominated for Outstanding Reality Competition Program. With two thirds of its judging panel set to exit and competitors like "The Voice" gaining in popularity, is the snub another sign that "Idol's" reign is coming to an close?

"House" may be over, but there was no happy ending for Hugh Laurie in the Outstanding Actor in a Drama Series category. The five-time Emmy nominee didn't make the cut this year, with nominations going to familiar faces like Jon Hamm, Bryan Cranston, Michael C. Hall, Steve Buscemi and newcomer Hugh Bonneville.

Louis C.K. grabbed a nomination for Outstanding Lead Actor in a Comedy Series, but his hilarious and groundbreaking show "Louie" was left out of the Outstanding Comedy Series category. It's a shame, but the snub should keep C.K. feeling plenty of existential angst, which is good news for fans of "Louie's" signature brand of dark comedy.

After winning the Outstanding Host For a Reality Or Reality-Competition Program Emmy in 2008, 2009, 2010 and 2011, "Survivor" host Jeff Probst wasn't even nominated this year. Maybe the Emmy committee just wanted to give somebody else a chance.

Jane Krakowski has been nominated three times for her role as Jenna Maroney on "30 Rock," but she was shut out of the Outstanding Supporting Actress in a Comedy category in 2012. The category as a whole saw a lot of turnover this year, so Krakowski should be able to take some solace in that.

Although the adorkable Zooey Deschanel scored an Outstanding Lead Actress in a Comedy Series nomination, the fall season's new breakout hit wasn't nominated in the Outstanding Comedy Series category. It's a mild surprise, although other strong, more seasoned shows like "Louie" and "Parks & Rec" were left out too, so the "New Girl" cast shouldn't be too upset.

Nick Offerman was supposed to co-host the Emmy nominations announcement ceremony, but maybe it's better that travel problems prevented him from getting to Los Angeles. Both Offerman's show, and his own performance as fan-favorite Ron Swanson, were snubbed, two of the more egregious oversights in this year's nominations.

Plimpton was nominated for Outstanding Lead Actress in a Comedy Series last year, but she was bumped out of the category in 2012 by newcomers like Zooey Deschanel and Lena Dunham.

Byrne has twice been nominated for Outstanding Supporting Actress in a Drama Series for her "Damages" role as Ellen Parsons, but with two nominees each this year from "The Good Wife" and "Downton Abbey," there wasn't much room left for Byrne to score another ... even in "Damages" final season.

Let her be your star? With an appearance in the latter half of the first season of "Smash," Thurman's performance as the high-maintenance Broadway actress Rebecca Duvall made quite an impact ... apparently.

"Nurse Jackie" star Wever, who also starred on "Studio 60 on the Sunset Strip," has played bubbly student nurse Zoey (and comic foil to Emmy winner Edie Falco's titular character) for four seasons now. But this is her first nomination, which is a pleasant surprise.

Former "Blossom" star Bialik got some major TV credit this year in the Outstanding Supporting Actress In A Comedy Series category for "The Big Bang Theory." Though Jim Parsons is an Emmy favorite, she wasn't a lock for many (if any) Emmy experts.

His character may not be easy-going, but Max Greenfield's portrayal of the ever-comical Schmidt got quite a bit of attention this year, and not just among "New Girl" fans. Long live Schmidt!

Plimpton may have been snubbed for her role on "Raising Hope," but she wasn't forgotten about completely. She nabbed a nomination for her guest role on "The Good Wife" in the Outstanding Guest Actress in a Drama Series category, which was surprising, considering she normally specializes in comedy.

Considering NBC canceled the legal dramedy in May, not many expected to see "Harry's Law" star Kathy Bates up for Outstanding Lead Actress in a Drama.

"Jimmy Kimmel Live" has been on the air for 10 years without being nominated for an Emmy, so it was surprising (and, ahem, coincidental) that the show was nominated for Outstanding Variety, Music or Comedy Series in the year that Kimmel just so happened to be hosting the ceremony. It was entirely fitting that he accepted the nomination in his PJs.

Ritter, who plays a high school teacher and Lauren Graham's on-screen younger boyfriend on "Parenthood," was nominated for Outstanding Guest Star in a Drama, which was a pleasant surprise for fans of the Little Show That Could.

Though Kristen Wiig has earned an Emmy nomination before for "Saturday Night Live," Hader earned his first nod for Outstanding Supporting Actor in a Comedy Series for his seventh season of "SNL."

Betty White wasn't nominated for "Hot in Cleveland," but the lovable small screen mainstay did surprisingly earn a nomination for "Betty White's Off Their Rockers" in the Outstanding Host For A Reality Or Reality-Competition Program category.

It's rare to see anyone nominated for a freshman show that's already been canceled, but Ashley Judd was nonetheless nominated for Outstanding Lead Actress in a Movie or Miniseries for her work in "Missing."

PBS has seen a great deal of critical success in the past two years thanks to "Downton Abbey," but Maggie Smith's performance mainly dominated the cast accolades. Now, Bonneville's nomination for his portrayal of Robert Crawley has launched him in to TV stardom.

As a maid at Downton Abbey, Joanne Froggatt's spectacular performance on the series has often been overlooked -- until now. Froggatt's portrayal of the kind, hard-working Anna Smith came as a pleasant surprise to 'Downton' lovers everywhere.

Karen McClusky has a love-hate relationship with the housewives of Wisteria Lane, but Joosten played her well on ABC's "Desperate Housewives." Despite the fact that her character didn't lives to see the series' end and Joosten passed away in June as well, the late actress was surprisingly able to nab an Emmy nomination for her performance.

Don Cheadle is a great actor who made the jump from film to TV in 2012, but his nomination for Outstanding Lead Actor in a Drama Series still came as something of a surprise. "House Of Lies" had a solid debut, but didn't blow viewers away. Cheadle's acting pedigree landed him a nomination in one of the Emmy's most prestigious categories anyway.

It was a pleasant surprise to see Anna Gunn get recognized for her work as Skyler White on "Breaking Bad" in the Outstanding Supporting Actress in a Drama Series category. Bryan Cranston has gotten so much critical acclaim that it's easy to forget about how much balance and quiet strength Gunn's character brings to "Breaking Bad."

Known as the comical British guy before Season 5 of "Mad Men," Jared Harris went out with a bang this season when his character Lane Pryce hung himself in his office. Although his performance was heart-wrenching, the fact that it earned him an Emmy nomination came as a bit of a surprise.
More Emmys 2012:
Stars react to nominations
Complete nomination coverage