HIVE Apartment In Australia Is A Graffiti Enthusiast's Dream Pad (PHOTOS)
Graffiti enthusiasts will be pleased to learn that a new project melding street art and architecture is in the works in Australia. The first in a series of buildings celebrating graffiti was recently unveiled in a suburb of Melbourne. Australian architect Zvi Belling of ITN Architects renovated an old tailor shop into a contemporary and eco-conscious apartment that, according to the architect's statement, "seeks to knit itself into the existing building on the site to form an integrated new cultural type that exposes the history of the site with glimpses of period material and detail."
The house is primarily constructed out of concrete and the exterior is decorated with shapes such as arrows, swooshes and drips. Local graffiti artist Prowla of Rock Da City graffiti crew designed the block lettering on the side of the home, which reads HIVE. The letters were one of the first pieces installed into the home and are the mainstay of the apartment.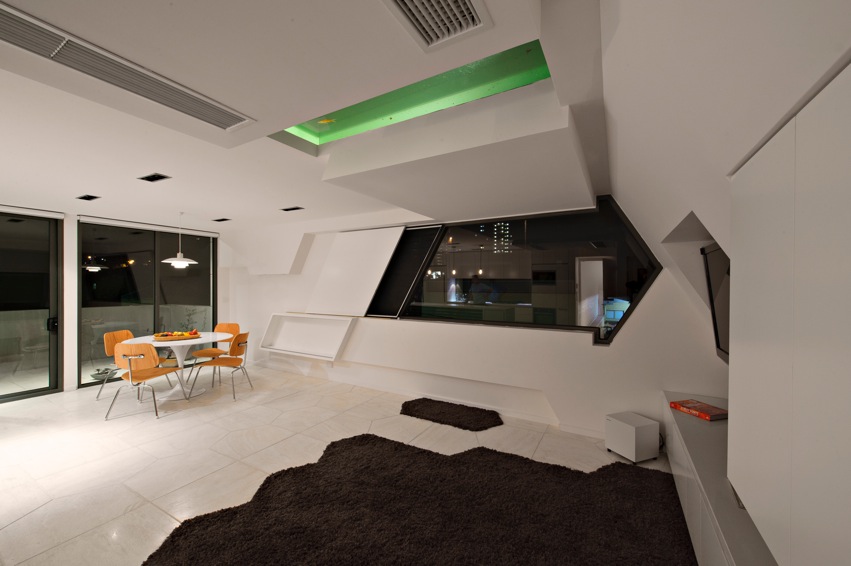 Inside, the home slightly resembles a sci-fi film set and is influenced by the exterior geometries. Environmentally, the home has a small ecological footprint as there are, "concealed sliding panels revealing louvred ports for cross ventilating habitable rooms... unusual door arrangements to minimize temperature exchange between zones... solar panels [are] located on the roof and a water storage tank [has been] installed below the car park area," as noted in the architect's statement.
The new apartment marries the original tailor shop with contemporary culture through its use of graffiti artwork. It's an interesting and contemporary piece of architecture. What do you think of it, readers?
Peep the slideshow for more pictures.
[via Dezeen]