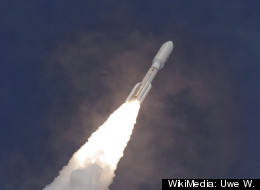 In less than two weeks, NASA's hyper-sophisticated, car-sized Mars rover Curiosity will touch down on the Red Planet to begin two years of scientific discovery.
If all goes well, that is. And yet some of the scientists behind the audacious mission--whose do-or-die landing sequence has been called seven minutes of terror--aren't taking success for granted.

"Those seven minutes are the most challenging part of this entire mission... For the landing to succeed, hundreds of events will need to go right, many with split-second timing and all controlled autonomously by the spacecraft. We've done all we can think of to succeed. We expect to get Curiosity safely onto the ground, but there is no guarantee. The risks are real." -- Pete Theisinger, JPL's Mars Science Laboratory project manager, said in a written statement.
"Are we terrified? I think we're confident in what we've designed... But we're all human. Everything we've worked for -- the scientific discoveries, the proven engineering, the contributions we make toward future NASA missions -- it all lies on the other side of those seven minutes." -- Ashwin R. Vasavada, JPL scientist, told the Los Angeles Times.
"The Curiosity landing is the hardest NASA mission ever attempted in the history of robotic planetary exploration." -- John Grunsfeld, associate administrator for NASA's Science Mission Directorate at NASA headquarters in Washington, D.C., said in a written statement.
"I think we all feel this incredible sense of pressure on MSL to do something grand and profound... I think it's going to be thrilling." -- John Grotzinger, a NASA scientist who's working on the mission, told McClatchy Newspapers, referring to the Mars Science Laboratory division of NASA.
"If you look at the scorecard, Earth is doing less than 50 percent; less than 50 percent of Earth's missions to Mars have been successful." -- Doug McCuistion, a former U.S. fighter pilot and NASA's Mars exploration director, said at the Farnborough Airshow south of London.
Is NASA playing up the rover mission's risks to keep expectations down? Maybe that's not a bad idea. In addition to many glorious successes, America's space agency has tasted its share of failure (even beyond the fatal tragedies of an early Apollo mission and the space shuttle disasters).
Keep clicking on the photos below to see some of the most embarrassing "black eyes" NASA and other nation's space agencies have endured.


Space Agencies' Most Embarrassing Moments
After the second manned space mission in 1961, the Liberty Bell 7 capsule was afloat in the Atlantic ocean, awaiting recovery. Astronaut Gus Grissom reported that he heard a dull thud as the hatch blew open--the module began filling with water, and Grissom had to struggle to escape before it sank. Did Grissom "screw the pooch," as Tom Wolfe famously wrote in The Right Stuff? Or was there a mechanical malfunction? The world may never know.

Phobos-Grunt was a 2011 Russian mission to return a sample of soil from Mars' moon Phobos. It would have been the first such sample ever returned to earth. Because of a malfunction in the craft's propulsion system, however, Phobos-Grunt never made it out of low-earth orbit. It remained there, crippled, until early 2012, when its orbit decayed and it disintegrated in the atmosphere off the coast of Chile.

This 1998 orbiter mission was supposed to study Mars' climate history and determine if the planet ever held life-sustaining water. But the $125 million craft never made it to Mars, burning up in the atmosphere on the day it was supposed to enter orbit. What caused the costly incident? One team of engineers had performed their calculations in metric units, while another used English units.

After participating in the first in-flight transfer of cosmonauts from one spacecraft to another, pilot Boris Volynov (pictured), led Soyuz 5 back toward Earth. When the service module failed to detach, the craft plummeted toward earth upside-down, subjecting Volynov to extreme heat. The craft subsequently crashed hundreds of miles off course in the Ural mountains, breaking several of Volynov's teeth in the impact and leaving him to awaiting rescue in -38 degree (F) temperatures. He walked "a few kilometers" to a village and took shelter until help arrived. (Source)

Although NASA's Hubble Space Telescope has produced incredible images of space for more than 20 years, it was nearly a failure of galactic proportions. After its launch in 1990, Hubble produced only blurry, grainy pictures due to a faulty mirror. Luckily, it was fixed three years later, and went on to capture some of the most incredible space images ever seen.

North Korea has attempted to launch its Kwangmyŏngsŏng satellites four times, and met with four failures. North Korean Umha-2 rockets, pictured, were used on the second and third launches but could not bring their satellite payloads into orbit. Fortunately, all the missions were unmanned.

H-IIA is the launch system of the Japanese Aerospace Exploration Agency (JAXA). Its sixth launch was supposed to deliver a spy satellite into orbit, but a rocket booster failed to detach properly from the H-IIA, making the rocket too heavy to enter orbit. Ground control sent a destruct command to the rocket shortly after.

Climate science was dealt a blow in March 2011, when NASA's Glory satellite--which was supposed to study humans' effect on the Earth's atmosphere--failed to launch. The Taurus XL rocket carrying the observation satellite crashed into the Pacific after liftoff when Glory's protective casing didn't open.

Cluster, a group of spacecraft launched by the European Space Agency (ESA) in 1995, were lost when launch vehicle Ariane 5 failed to reach orbit. The launch vehicle, on its maiden voyage, self-destructed after a software error caused it to veer off-course. What was the problem? A glitch similar to the issue that doomsayers said would bring disaster at 11:59:59, December 31, 1999. This time, however, the threat was real.

NASA's most famous black eye came on April 14, 1970, when an oxygen tank on Apollo 13's service module exploded and the crew narrowly managed to abort the mission safely. The damaged service module that began the drama is pictured here, courtesy of Alan Bean, Apollo astronaut and "first artist on another world."

Naro-1 was a carrier rocket created for South Korea's Korean Aerospace Research Institute. Both attempts to launch Naro-1 ended in failure, with one disintegrating in the atmosphere and another exploding before making it to space.