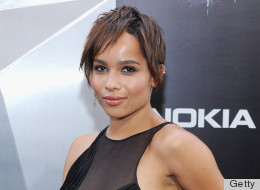 This week's wardrobe malfunctions (and close calls) brought us the typical blunders but with some lethal twists. Movie premieres all over the world brought out fashion's glitterati in full force, while the usual string of parties didn't fail to disappoint in the risky wardrobe department either.
Whether it was Zoe Kravitz' near sheer-disaster or Anne Hathway's dangerously drapey dress, stars weren't afraid to brave skin-baring ensembles. Check out the slideshow to see our picks for who came closest to a fashion fail.
Celebrity (Almost!) Wardrobe Malfunctions
The singer appeared at the NYC Premiere of "The Dark Knight Rises" on July 16th with a very risqué ensemble. Kravitz looked very sexy in a dramatic LBD and edgy haircut. We praise the placement of the black strips on her chest but we're definitely catching some side-boob here! (Getty photo)

"Batman's" newest Catwoman looked stunning at the European Premiere of "The Dark Knight Rises" in London on July 18th. The actress wore a gold dress with a gorgeous collar, but the dress itself was very sheer and had two long slits on either side below the actress's arms. By some sort of undergarment magic, Hathaway steered clear of any wardrobe malfunctions and we're glad because she looked spectacular! (Getty photo)

British reality star Kimberly Garner was tempting fate at the European premiere of "The Dark Knight Rises" as well. The blonde bombshell wore a backless, floor-length gown with a plunging neckline, held up only by her halter. We definitely caught some side-boob, but luckily nothing else. (Getty photo)

Australian actress Cleopatra Coleman wore a sexy ensemble at the LA premiere of "Step Up Revolution." Coleman opted for a curve-hugging LBD with a fun sheer cutout which could have been disastrous if not for how strategically placed they were. Well done Cleo, you avoided a wardrobe malfunction! Others haven't been so lucky... (Getty photo)

The "Jersey Shore" star was recently featured on the cover of "Inked" magazine, debuting a giant tattoo on a very exposed thigh. So we weren't surprised to see JWoww showing skin at the celebration of her cover on July 17th. However, we were surprised by how she managed to avoid any kind of nip slips or panty line exposures. (Getty photo)

The contemporary dancer and winner of the 5th season of "So You Think You Can Dance" opted for a very sexy black dress for the LA premiere of "Step Up Revolution." That plunging neckline and red lip were totally va-va voom and we're glad that all we could see was cleavage. We're pretty sure Jeanine was glad, too. (Getty photo)

JWoww had a tough run with wardrobe malfunctions this week. Here the star is seen leaving a filming of the "Today Show" in NYC on July 17th with a little bit of her bra peeking out from under her plunging neckline. At least all we could see was her bra... (Getty photo)

Supermodel Pat Cleveland looked radiant at the NYC premiere of HBO's "About Face: Supermodels, Then And Now" on July 17th. The 67 year-old chose to wear a silky, cream dress which draped around her shoulders but was also extremely thin. We were afraid that the dress was a little too thin or was too far down her shoulders but Cleveland was fine. Of course! She's a supermodel, what else can we expect? (Getty photo)
Want more? Be sure to check out HuffPost Style on Twitter, Facebook, Tumblr and Pinterest.