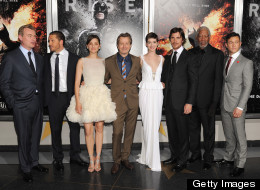 The "Dark Knight Rises" Paris premiere has been canceled in the wake of the tragic shooting at an Aurora, Co. theater that has left 12 dead thus far and at least 59 injured.
According to THR, reporters were notified that a press conference which was set to feature main cast members Christian Bale, Anne Hathaway, Morgan Freeman and director Christopher Nolan was called off following the shooting. Friday night's red carpet premiere of "The Dark Knight Rises" in Paris was also tabled. (A French website has photos of staff disassembling the red carpet.)
"Warner Bros. is deeply saddened to learn about this shocking incident," the studio behind "The Dark Knight Rises" said in a statement on Friday morning. "We extend our sincere sympathies to the families and loved ones of the victims at this tragic time."
Police have identified the shooting suspect as James Holmes, a 24-year-old Colorado resident. He's currently in custody.
"The Dark Knight Rises" is one of the summer's most anticipated films. According to early reports, the film earned over $30 million from its midnight screenings around the country.
For up-to-the-minute news on the Aurora shooting, click here.
[via THR]
Batman Premiere Shooting At Century 16 Cinema
Tom Sullivan , holds a photograph of his son, Alex Sullivan, as he pleads with the media to help him find his son, outside Gateway High School on Friday, July 20, 2012 in Aurora, Colo. Alex Sullivan, was celebrating his 27th birthday by attending midnight premiere of the Batman movie Friday night. A gunman wearing a gas mask set off an unknown gas and fired into the crowded movie theater killing 12 people and injuring at least 50 others, authorities said. (Photo credit: AP Photo/Barry Gutierrez)

A woman cries outside Gateway High School where witness were brought for questioning after a gunman opened fire at a midnight premiere of The Dark Knight Rises Batman movie Friday, July 20, 2012 in Aurora, Colo. A gunman wearing a gas mask set off an unknown gas and fired into the crowded movie theater killing 12 people and injuring at least 50 others, authorities said. (Photo credit: AP Photo/Barry Gutierrez)

Tom Sullivan, center, embraces family members outside Gateway High School where he has been searching frantically for his son Alex Sullivan who celebrated his 27th birthday by going to see "The Dark Knight Rises," movie where a gunman opened fire Friday, July 20, 2012, in Aurora, Colo. (Photo credit: AP Photo/Barry Gutierrez)

Eyewitness Chandler Brannon, 25, sits outside Gateway High School where witnesses were brought for questioning after a shooting at a movie theater showing the Batman movie "The Dark Knight Rises," Friday, July 20, 2012 in Aurora. A gunman wearing a gas mask set off an unknown gas and fired into the crowded movie theater killing 12 people and injuring at least 50 others, authorities said. (Photo credit: AP Photo/Barry Gutierrez)

A small group prays outside Gateway High School where witness were brought for questioning Friday, July 20, 2012 in Aurora, Colo. A gunman wearing a gas mask set off an unknown gas and fired into the crowded movie theater killing 12 people and injuring at least 50 others, authorities said. (Photo credit: AP Photo/Barry Gutierrez)

Family and friends wait outside Gateway High School where witnesses were brought for questioning after a shooting at a movie theater showing the Batman movie "The Dark Knight Rises," Friday, July 20, 2012 in Aurora, Colo. A gunman wearing a gas mask set off an unknown gas and fired into the crowded movie theater killing 12 people and injuring at least 50 others, authorities said. (Photo credit: AP Photo/Barry Gutierrez)

Eyewitness Jacob Stevens, 18, hugs his mother Tammi Stevens after being interview by police outside Gateway High School where witnesses were brought for questioning Friday, July 20, 2012 in Aurora, Colo. A gunman wearing a gas mask set off an unknown gas and fired into the crowded movie theater killing 12 people and injuring at least 50 others, authorities said. (Photo credit: AP Photo/Barry Gutierrez)

Eyewitness Isaiah Bow hugs his mother Shamecca Davis after being questioned by police outside Gateway High School where witnesses were brought in, Friday, July 20, 2012 in Aurora, Colo. After leaving the theater Bow went back in to find his girlfriend. "I didn't want to leave her in there. But she's ok now," Bow said. A gunman wearing a gas mask set off an unknown gas and fired into the crowded movie theater killing 12 people and injuring at least 50 others, authorities said. (Photo credit: AP Photo/Barry Gutierrez)

Emma Goos, 19, hugs her mother, Judy Goos, outside Gateway High School where witnesses were brought for questioning Friday, July 20, 2012, in Aurora, Colo. Emma was in the third row of the theater of the new Batman movie when the shooter entered. She helped apply pressure to a man's head who was injured. (Photo credit: AP Photo/Barry Gutierrez)

Police cars in front of the Century 16 theater in Aurora, Colorado where a gunman opened fire during the opening of the new Batman movie "The Dark Knight Rises" killing at least 15 people and wounding 50 others on the morning of July 20, 2012. The shooting suspect in custody after at least 12 people were shot dead and around 50 were wounded at a movie screening in the United States has been identified as 24-year-old James Holmes, US media said Friday. Television networks cited the FBI as saying that Holmes, from the town of Aurora, Colorado, scene of the midnight shooting at a screening of the Batman movie "The Dark Knight Rises," did not appear to have any known terrorism connections. (Photo credit: AFP PHOTO/JONATHAN CASTNER JONATHAN CASTNER/AFP/GettyImages)

Police tape cordons off the parking area around the Century 16 movie theater in Aurora, Colorado, July 20, 2012 where a gunman opened fire during the showing of the new Batman movie. At least 12 people were killed and around 50 wounded in the cinema shooting. (Photo credit: AFP PHOTO JONATHAN CASTNERJONATHAN CASTNER/AFP/GettyImages)

Police cars in front of the Century 16 theater in Aurora, Colorado where a gunman opened fire during the opening of the new Batman movie "The Dark Knight Rises" killing at least 15 people and wounding 50 others on the morning of July 20, 2012. The shooting suspect in custody after at least 12 people were shot dead and around 40 were wounded at a movie screening in the United States has been identified as 24-year-old James Holmes, US media said Friday. Television networks cited the FBI as saying that Holmes, from the town of Aurora, Colorado, scene of the midnight shooting at a screening of the Batman movie "The Dark Knight Rises," did not appear to have any known terrorism connections. (Photo credit: AFP PHOTO/JONATHAN CASTNERJONATHAN CASTNER/AFP/GettyImages)

Police cars in front of the Century 16 theater in Aurora, Colorado where a gunman opened fire during the opening of the new Batman movie "The Dark Knight Rises" killing at least 15 people and wounding 50 others on the morning of July 20, 2012. The shooting suspect in custody after at least 12 people were shot dead and around 50 were wounded at a movie screening in the United States has been identified as 24-year-old James Holmes, US media said Friday. Television networks cited the FBI as saying that Holmes, from the town of Aurora, Colorado, scene of the midnight shooting at a screening of the Batman movie "The Dark Knight Rises," did not appear to have any known terrorism connections. (Photo credit: AFP PHOTO/JONATHAN CASTNERJONATHAN CASTNER/AFP/GettyImages)

Police cars are seen in the parking area around the Century 16 movie theater in Aurora, Colorado, July 20, 2012 where a gunman opened fire during the showing of the new Batman movie. At least 12 people were killed and around 50 wounded in the cinema shooting. (Photo credit: AFP PHOTO JONATHAN CASTNERJONATHAN CASTNER/AFP/GettyImages)

Police use a video camera to look inside an apartment where the suspect in a shooting at a movie theatre lived in Aurora, Colo., Friday, July 20, 2012. As many as 12 people were killed and 50 injured at a shooting at the Century 16 movie theatre early Friday during the showing of the latest Batman movie. (Photo credit: AP Photo/Ed Andrieski)

Police break out a window of an apartment where the suspect in a shooting at a movie theatre lived in Aurora, Colo., Friday, July 20, 2012. As many as 12 people were killed and 50 injured at a shooting at the Century 16 movie theatre early Friday during the showing of the latest Batman movie. (Photo credit: AP Photo/Ed Andrieski)

Shamecca Davis hugs her son Isaiah Bow, who was an eye witness to the shooting, outside Gateway High School where witness were brought for questioning Friday, July 20, 2012 in Denver. After leaving the theater Bow went back in to find his girlfriend. " I didn't want to leave her in there. But she's ok now," Bow said. A gunman wearing a gas mask set off an unknown gas and fired into a crowded movie theater at a midnight opening of the Batman movie "The Dark Knight Rises," killing at least 12 people and injuring at least 50 others, authorities said. (Photo credit: AP Photo/Barry Gutierrez)

Judy Goos, second from left, hugs her daughters friend, Isaiah Bow, 20, while eye witnesses Emma Goos, 19, left, and Terrell Wallin, 20, right, gather outside Gateway High School where witness were brought for questioning Friday, July 20, 2012 in Denver. A gunman wearing a gas mask set off an unknown gas and fired into a crowded movie theater at a midnight opening of the Batman movie "The Dark Knight Rises," killing at least 12 people and injuring at least 50 others, authorities said. (Photo credit: AP Photo/Barry Gutierrez)

A SWAT team officer stands watch near an apartment house where the suspect in a shooting at a movie theatre lived in Aurora, Colo., Friday, July 20, 2012. As many as 14 people were killed and 50 injured at a shooting at the Century 16 movie theatre early Friday during the showing of the latest Batman movie. (Photo credit: AP Photo/Ed Andrieski)

Police gather near an apartment house where the suspect in a shooting at a movie theatre lived in Aurora, Colo., Friday, July 20, 2012. As many as 12 people were killed and 50 injured at a shooting at the Century 16 movie theatre early Friday during the showing of the latest Batman movie. (Photo credit: AP Photo/Ed Andrieski)

A SWAT team officer stands watch near an apartment house where the suspect in a shooting at a movie theatre lived in Aurora, Colo., Friday, July 20, 2012. As many as 12 people were killed and 50 injured at a shooting at the Century 16 movie theatre early Friday during the showing of the latest Batman movie. (Photo credit: AP Photo/Ed Andrieski)

Jacob Stevens, 18, hugs his mother Tammi Stevens after being interview by police outside Gateway High School where witness were brought for questioning after a shooting at a movie theater, Friday, July 20, 2012 in Denver. A gunman wearing a gas mask set off an unknown gas and fired into a crowded movie theater at a midnight opening of the Batman movie "The Dark Knight Rises," killing at least 12 people and injuring at least 50 others, authorities said. (Photo credit: AP Photo/Barry Gutierrez)

(Credit: Sky News)

(Credit: Sky News)

(Credit: Sky News)

(Credit: Sky News)

Police are pictured outside of a Century 16 movie theatre where as many as 12 people were killed and many injured at a shooting during the showing of a movie at the in Aurora, Colo., Friday, July 20, 2012. (Photo credit: AP Photo/Ed Andrieski)

Police are pictured outside of a Century 16 movie theatre where as many as 12 people were killed and many injured at a shooting during the showing of a movie at the in Aurora, Colo., Friday, July 20, 2012. (Photo credit: AP Photo/Ed Andrieski)

Aurora Police Chief Daniel Oates talks to media at Aurora Mall where as many as 12 people were killed and many injured at a shooting at the Century 16 movie theatre in Aurora, Colo., Friday, July 20, 2012. (Photo credit: AP Photo/Ed Andrieski)

Aurora Police Chief Daniel Oates talks to media at the Aurora Mall where as many as 14 people were killed and many injured at a shooting at the Century 16 movie theatre in Aurora, Colo., Friday, July 20, 2012. (Photo credit: AP Photo/Ed Andrieski)

Police are pictured outside of a Century 16 movie theatre where as many as 12 people were killed and many injured at a shooting during the showing of a movie at the in Aurora, Colo., Friday, July 20, 2012. (Photo credit: AP Photo/Ed Andrieski)

Police are pictured outside of a Century 16 movie theatre where as many as 12 people were killed and many injured at a shooting during the showing of a movie at the in Aurora, Colo., Friday, July 20, 2012. (Photo credit: AP Photo/Ed Andrieski)

People gather outside the Century 16 movie theatre in Aurora, Colo., at the scene of a mass shooting early Friday morning, July 20, 2012. Police Chief Dan Oates says 12 people are dead following the shooting at the suburban Denver movie theater. He says 50 others were injured when gunfire erupted early Friday at the Aurora theater. Oates says a gunman appeared at the front of one of the Century 16 theaters. Photo Credit: Karl Gehring, Denver Post. / AP

(Photo credit: 7NewsMorning/Twitter)

(Photo credit: 7NewsMorning/Twitter)

(Photo credit: Faunte Thompson/Twitter)

(Photo credit: 7NewsMorning/Twitter)

(Photo credit: Brandon Rittiman/Twitter)

(Photo credit: 7NewsMorning/Twitter)

(Photo credit: Jakeob Bame/Twitter)