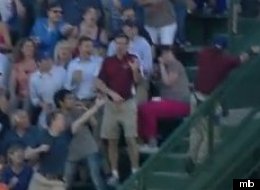 By Chris Yuscavage, Complex Sports

When you hear the crack of a bat and a crowd go nuts in the middle of a baseball game, what do you do? Look around to find out where the ball was hit, right?
Well, this poor usher at Wrigley Field didn't bother to do that last night after Jose Reyes crushed a ball into the right field bleachers. As a result, he…well, just watch.
Let's just say he'll (hopefully!) be paying better attention at games from now on.