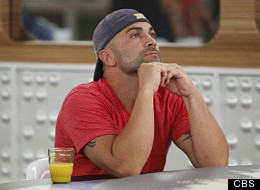 The "Big Brother 14" video feeds were down for hours Friday, June 20 and when they came back on, Willie Hantz was gone.
Fellow cast member Boogie said on the feeds that Willie was kicked out, according to Zap2It, which also reported that earlier on Friday, Willie was calling houseguests "c----" and "a-------" after he was made a Have-Not when Janelle won the Coaches Competition.
Reportedly, he told Janelle to "f--- off," threw pork rinds at her, kicked the Have-Not door and headbutted Joe not once, not twice, not thrice, but four times.
His nephew (and former "Survivor" contestant) Brandon Hantz defended Willie in a YouTube video: "He's family. He's my family. He's my blood. He's my uncle and I'm gonna go to bat for him."
As for the allegations that he is homophobie, Brandon said: "My Uncle Willie is a loving, loving person. My little cousin Seth is a homosexual and he loves my cousin Seth very much." He also acknowledged that the Hantz family has "temper issues."
In another video, Brandon with his dad, Russell Hantz -- another "Survivor" alum, call Willie and he tells his side of the story. But the ejected "Big Brother" cast member did admit, "If I could go back, I would change a lot of things ... I didn't go on that show to be a violent person, I went on that show to play the game."
See the "Big Brother 14" contestants by clicking through the gallery below.
Joe Arvin, 41, a chef from Lexington, KY.

Wil Heuser, 24, a marketing consultant from Louisville, KY.

Frank Eudy, 28, from Marion, Ark.

Danielle Murphree, 23, a nurse from Grant, Ala.

Shane Meaney, 26, a house flipper from Bennington, Vt.

Ian Terry, 21, an engineering student from Pittsburgh, Pa.

Jojo Spatafora, 26, a bartender from Staten Island, N.Y.

Willie Hantz, 34, a tankerman from Vinton, La.

Kara Monaco, 29, a model from Orlando, Fla.

Jodi Rollins, 42, a restaurant server from Englewood, Colo.

Jenn Arroyo, 37, a musician from Brooklyn, N.Y.

Ashley Iocco, 26, owner of a mobile spray tan company from Pittsburgh, Pa.