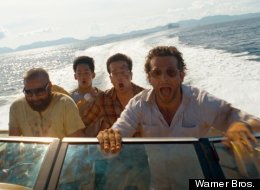 When Mike Epps joked in "The Hangover" that roofies should be called "floories," it's doubtful he ever thought that the film would the first part of what would become a billion-dollar grossing trilogy. It was, however, and that's a good thing for the comedian: Epps has been asked to reprise his role for "The Hangover Part III."
Variety reports that Epps will return as Doug (or Black Doug or "the world's sh-ttiest drug dealer") in "The Hangover Part III," which already includes original stars Bradley Cooper, Zach Galifianakis and Ed Helms. Ken Jeong -- who played an eccentric supporting part in both the "Hangover" and its sequel -- will also return, though THR reported that his role will be much bigger this time around.
Little is known about "The Hangover Part III," but Galifianakis said last year that the film would focus on Phil and Stu (Cooper and Helms) breaking his character out of a mental institution. Filming locations are rumored to be Los Angeles and Las Vegas (which would explain the reappearance of Doug), as well as Tijuana.
"The Hangover Part III" is set to hit theaters on May 24, 2013.
[via Variety]
The Best Comedy Trios Ever
The gold standard for comedic trios. This 1986 classic stars Steve Martin, Chevy Chase and Martin Short as silent film actors who portray the fictional Three Amigos. Unfortunately, a woman in danger mistakes them for the real thing and invites them down to Mexico to stop the notorious bandit El Guapo. Things (SPOILER?) work out in the end, but not before the three make complete asses of themselves.

Although the beginning of this movie is less trio and more duo-plus-one, Phil (Bradley Cooper), Stu (Ed Helms) and Allan (Zach Galifianakis) end up coming together to form a rather dynamic -- and completely random -- team who hope to find their missing best friend. They even manage to get a stolen tiger returned to its rightful owner, Mike Tyson.

Pour Donny (Steve Buscemi) may have taken offense to being included on this list. However, before he could voice his complaints, Walter (John Goodman) would have told him to "Shut the f-ck up," while the Dude (Jeff Bridges) would sit there zoned out, daydreaming about bowling. (Clip above NSFW.)

The 1991 comedy starring Billy Crystal, Daniel Stern and Bruno Kirby taught us two things: Under no circumstances should three grown men from the city take a trip to the Southwest to herd cattle, and no matter where a group of best friends travel, they will always find something interesting to talk about.

Some of you may scoff at this 2011 comedy making the list, however, it's hard to argue the chemistry that exists between Jason Bateman, Charlie Day and Jason Sudeikis, who play three friends attempting to murder their overbearing bosses

In real life, three New York City bachelors taking care of a child that unexpectedly shows up on their doorstep sounds like an absolute disaster. However, in a movie, it's actually a fun disaster! (Also, there's nothing more entertaining than watching the mustachioed Tom Selleck struggle to change a baby's diaper.)

In "Airheads," Adam Sandler, Brendan Fraser and Steve Buscemi play wannabe rock stars who break into a radio station to get their record on the air. Then, one thing leads to another and they end up taking everyone inside the building hostage using plastic water guns.

Frank the Tank! Frank the Tank! The second Todd Philips film on our list -- and the aughts favorite frat comedy -- starred Will Ferrell, Luke Wilson and Vince Vaughn as three middle-aged buddies who end up starting a fraternity after one of them moves into a giant house on campus. There's jello wrestling, streaking and, of course, Snoop Dogg. (Clip above NSFW.)

You may think that this movie was just a one-man show, however, Ferris Bueller (Matthew Broderick) wouldn't have had that awesome day of fun without his sidekick Cameron (Alan Ruck) and his girlfriend Sloane (Mia Sara). See how well they complement each other during this Sausage King of Chicago restaurant scene?

Haha, just kidding. If this thing gets made, stay far, far away.