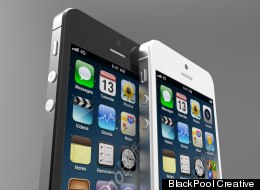 Hello, ladies and gentlemen, and welcome to This Week In Apple Rumors, our regular look back at all of the week's unconfirmed gossip, questionably-sourced reports and blatant speculation about future Apple products from around the web! Let's take a look back at what the various Apple blogs and websites were excited about in the past week, from July 15 - 21. Check out our previous edition of Apple rumors here, and for all the latest you can follow me on Twitter right here.
The Week's Biggest Apple Rumors
This week's biggest Apple rumors were all about CASES! Sexy and you know it, supposed iPhone 5 cases kept popping up like dandelions this week, perhaps giving us a hint about the specifications of the next iPhone (because case manufacturers -- mostly based in China -- pay for what is supposedly inside information from Apple's supply chain about the size and build of upcoming gadgets, so that they can get a headstart on designing cases and be ready for bulk sales when the device is unveiled). Girl look at these cases: Available at Chinese parts supplier TVC-mall, the cases line up with what we've seen from alleged iPhone leaks over the past several weeks: A taller, thinner device, with the headphone jack moved to the bottom and a much smaller dock connector. The device is said to be getting taller, of course, to accommodate a bigger screen, which will supposedly come in at about 4.0-inches diagonally. Case-makers are not infallible, of course. For example, on September 15, 2011, about a month before the iPhone 4S was unveiled, Boy Genius Report posted an article with the headline "iPhone 5 to have radical new design according to Case-Mate images," complete with slideshow of these images. Apple 1, case-makers 0. Let's see if case-makers can even the score this year.

This one's from Chinese Apple-watcher Apple.pro and, too, shows the taller screen; we're also looking at a front-facing camera that has been moved to the center of the iPhone for head-on video-chatting. The original article is written in Chinese, so let's go to Google Translate for some insight from Apple.pro reporter Anthony Tsai: Although the 2012 summer vacation hot ~ But the news of Apple's New iPhone (iPhone5) with the iPad mini hot ... Apple -- consistent self-adhere to is -- step by step toward the market demand and compromise Drift or to persist in the end To see Tim Cook how the leadership of the future direction of Apple ... Beautifully written. You can "read" the full post here through Google Translate, or if you speak Chinese, the original article is available for you here.

During a company conference call this past week Verizon CFO Fran Shammo supposedly intimated that the next iPhone might come out in the fourth quarter of this year. CNET picked up on it with an article called "Verizon drops a hint on a possible Q4 iPhone 5 launch." The Verge has Shammo's actual words: When asked what might have held customers back from upgrading their devices in Q2, Shammo said that "of course there's always that, uh, rumor mill out there with a new phone coming out there in the fourth quarter, so people may be waiting." Here's what this sounds like to me: Shammo is referencing when the rumor mill is saying the iPhone will come out, not actual inside information. Anyone who reads any technology website knows that for months now there have been rumors that the iPhone 5 would be released in September or October; even Apple acknowledges that this rumor mill causes customers (for good reason) to wait to upgrade their phones. Shammo knows the rumors exist and knows what they're saying. He didn't divulge anything here (even if the iPhone does come out in the fourth quarter, which every indication points to). Moving along.

Could a (hypothetical) Apple-made television hypothetically be available only in the United States at launch? Hypothetically, yes! At least that's what two industry analysts told Stuff.tv in a discussion on a (still hypothetical) Apple television. The analysts -- Paul Erickson of IMS and the excellently-named Giles Cottles of Informa -- explained to Stuff Dot TV that, due to various content licensing agreements across nations, neither would be surprised if the Apple television (which we're not even sure exists yet) went on sale only in the U.S., when (and if) it is released, to be followed by other countries when those agreements get worked out. Obviously, we're not reading too much into the report, as this seems like the idle speculation of analysts, not based on even the most anonymous or flimsy of "sources with knowledge of the situation." It's more chatter than reportage, in other words. In any case, the argument for an America-first launch for a so-called "iTV" does make sense, especially taking into account how difficult it is to stream studio content in different countries. (Netflix, in the midst of an international expansion, can tell you.) So, the iTV could launch in America, and only America, first, and you'll be able to brag to your French cousins that you have one and they don't. Let's hear it for American exceptionalism!

Bloomberg and the Wall Street Journal have both heard that Apple is planning a smaller iPad for launch later this year, and now the New York Times is on it with a similar article. A so-called iPad Mini, writeth the Times, featuring a 7.85-inch display and costing "significantly less" than the $499 starting price for the 10-inch iPad, is "expected to be announced this year." This aligns with the Bloomberg and WSJ reports and lends more credence to an upcoming iPad Mini launch, still not a definite; though the Times doesn't give a price, we've been hearing for months that one could go for between $249 and $299, in order to battle $199 tablets Kindle Fire and Nexus 7. Aside from price, the New York Times article leaves another important question unanswered: How will this new iPad Mini affect the popularity of aluminum awnings in Brooklyn? For the love of God, let's get a reporter out to Greenpoint ASAP! That's all for This Week In Apple Rumors. Check back next week, when the Times will have an exclusive report on Apple's entrance into the awning market, with a Siri-enabled iAwning planned for release some time in 2013. And if you can't wait a whole week for your Apple rumors, you can get 'em up to the minute by following me on Twitter right here.