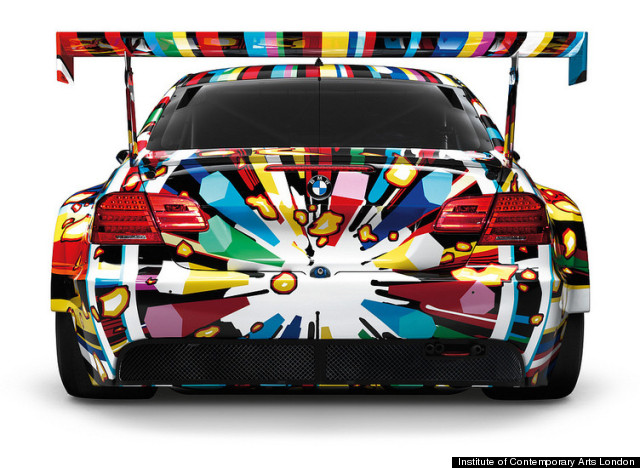 Jeff Koons, Art Car, 2010, M3 GT2
"Art Drive! BMW Art Car Collection" takes up six floors of a car park in Shoreditch, East London, showcasing customized vehicles painted by famous artists such as David Hockney, Roy Lichtenstein and Andy Warhol. The BMW art car project initially began in 1975 when racing driver and auctioneer Hervé Poulain asked the mobile-artist Alexander Calder to do some auto-decorating for him. Adding stylistic touches to what Poulain claimed is "an already perfect object," other artists soon joined in the corporate-sponsored fun, with Jeff Koons being the most recent contemporary figure to participate, according to ARTINFO. The exhibit will showcase these BMW beauties spanning from the 1970s onward. Not everyone is enjoying this marriage of established art and commerce, however. Jonathan Jones over at the Guardian writes, "The whole thing would look very different if more, younger, artists were invited and allowed to do what they want, including total destruction of the car." We agree.
The art exhibit will take place as part of the London 2012 Festival, and runs until August 4, 2012. The ICA will also be exhibiting an online art show titled "Soundworks," which will showcase over 100 new sound works created by international artists until September 16, 2012.
So while the National Gallery may soon be partially closed and the ICA has been forced off-campus, there's no reason for art-goers to fret during the games. Just head over to Shoreditch and check out the museum's creative response to being temporarily homeless. Scroll down for images of the exhibit:
Art Drive! BMW Art Car Collection
SUBSCRIBE AND FOLLOW
Get top stories and blog posts emailed to me each day. Newsletters may offer personalized content or advertisements.
Learn more