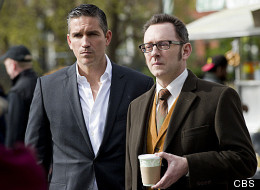 There will be a "Lost" reunion on "Person of Interest." "Lost" veterans Michael Emerson and Ken Leung will reunite on the CBS drama.
Margo Martindale will also guest star on the series starring Emerson and Jim Caviezel. CBS made the announcement on Twitter, but no details on their roles were revealed.
@CBSTweet

CBS Tweet
Casting News! "Lost" alum Ken Leung & Emmy winner Margo Martindale to guest this fall on
#PersonOfInterest
.
In other casting news ...

Chord Overstreet will be back on "Glee." Overstreet will be a series regular on the fourth season of the Fox hit musical series when it returns Thurs., Sept. 13 9 p.m. ET. [THR]

Niecy Nash will meet the "New Girl" gang. Nash will guest star as a thieving hooker who swipes Jess' purse. [THR]

"Alcatraz" actress Sarah Jones is moving to "Vegas." Jones will be a series regular on the new CBS series, playing a woman with ties to Michael Chiklis' character. [TV Guide]

"Battlestar Galactica" veteran Michael Trucco is returning to "How I Met Your Mother." Trucco first appeared in the series during Season 6 and will return for multiple episodes of Season 8. [TVLine]