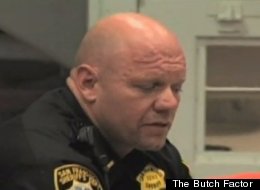 Just one night before suspended San Francisco Sheriff Ross Mirkarimi, celebrated a passionate reunion with his wife, one of the city's top deputies was also accused of domestic violence.
Lieutenant Vincent Calvarese, 48, was arrested after an alleged incident on July 19 at the Market Street Gold's Gym in San Francisco. According to the San Francisco Police Department, Calvarese has been charged with misdemeanor assault likely to cause great bodily injury, misdemeanor battery and misdemeanor false imprisonment. He will be arraigned on Thursday at 1:30 p.m.
(SCROLL DOWN FOR PHOTOS AND VIDEO)
According to SF Weekly, the alleged victim was someone Calvarese "knew and had some sort of relationship with." Calvarese has been placed on administrative duty while "the judicial process plays out."
Calvarese, an openly gay man, was featured in the 2009 film "The Butch Factor," a documentary on the relationship between masculinity and homosexuality. In the show, Calvarese discussed the challenges of being gay in law enforcement.
Calvarese's arrest comes at a bad time for the San Francisco Sheriff's Department, as Mirkarimi has been battling a public firestorm since allegations surfaced that he bruised his wife during an argument in January. Mayor Ed Lee suspended Mirkarimi without pay and has been fighting for his permanent removal.
However, as SF Weekly noted, Calvarese would not face the same forced removal as he is not an elected official. If he is found guilty, "a disciplinary process will start within the department."
Watch a clip of Calvarese from "The Butch Factor" in the video below. Then see photos of Mirkarimi's reunion with his wife in the following slideshow: