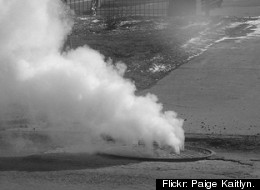 Better triple-check your books, an unpaid bill as low as a few hundred bucks can result in foreclosure, or worse.
New Jersey plumber Dominick Vulpis found his home in foreclosure because he failed to pay a sewer bill worth $140 four years earlier, MSNBC reports (h/t The Daily Mail).
The foreclosure was the result of a tax lien, a process by which unpaid bills or taxes sold by cash-strapped local governments are purchased and collected by third-party investors, sometimes resulting in foreclosure for those who don't pay.
"It was never brought to my attention until it was too late," Vulpis told MSNBC. "I may pay a bill late, but I pay them. I'm not trying to beat anyone for $140."
Vulpis was ultimately allowed to roll the bill into his mortgage and avoid eviction, but the whole episode cost him about $50,000 including legal fees and interest.
Vulpis is one of many getting caught in the fray as cash-strapped local governments increasingly use tax liens to recoup much-needed unpaid funds. It's estimated that local governments raised about $15 billion using tax liens in 2010, ABC News reports. Meanwhile, investors can routinely hope to see seven to 10 percent interest on liens and in some cases turn them into hundreds of thousands of dollors in profits, according to CNNMoney.
The problem has taken a particularly harsh toll on the elderly. One 81-year-old Rhode Island woman ran into trouble over a sewer bill worth $474. She wasn't as lucky as Vulpis, and ended up being evicted from the home she lived in for more than forty years, CNNMoney reports. Another elderly woman in Atlanta narrowly avoided eviction after a five year battle when a tax lien was sold on a bill mistakenly sent to her address.
Indeed, cash-strapped cities around the country are relying on multiple ways to speed payments and bolster coffers including
shutting off water for unpaid fines
,
stricter blight ordinances
and
collecting taxes they hadn't bothered with previously
.