Is the Virgin Mary a fan of the tri-state area?
Not even two weeks after an image of Our Lady of Guadalupe was spotted in West New York, another Virgin Mary sighting is causing quite the scene in Sleepy Hollow, New York, bringing plenty of the faithful to the quiet Westchester neighborhood.
Patch reports onlookers have gathered across the street from a local church, where a Sleepy Hollow resident stumbled upon what many are now believing to be a sacred image (below).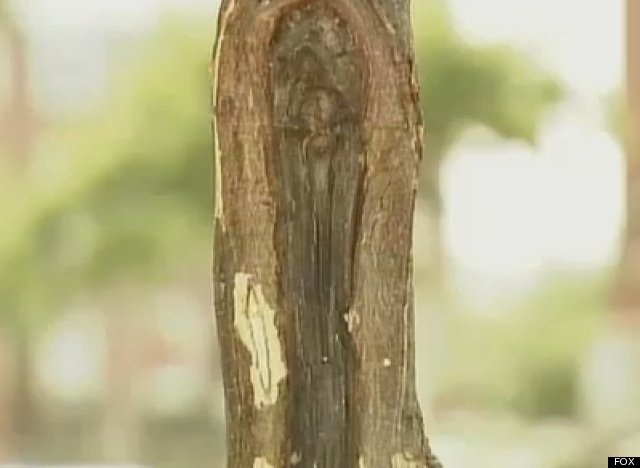 Since the sighting, throngs of believers have come to see the supposedly miraculous sighting. Juliette Bosquet told Patch:, "It means a lot to me. This gives me a lot of hope. I'm from Haiti. You know what my country's about. With all the things going on in Haiti, I should be the first one to believe. This really is true. If you really look at it, you can see the face."
Residents of West New York, New Jersey say their Virgin Mary appeared on a tree trunk after a man from Mexico was killed in a car crash in the area
Check out a gallery of other religious visions below:

Loading Slideshow
No. 11: Grilled Cheesus Panini Maker

Brooklynite Robert Corso is hoping to earn the praises of foodies by creating a panini maker called the Grilled Cheesus. The device isn't on the market yet, but a $25,000 funding drive was the answer to his prayers, and the first set of appliances is currently being manufactured.

No. 10: Kudzu Jesus

In this June 28, 2011, photo, a patch of kudzu grows on a utility pole, in Kinston, N.C. People in the area see a likeness to Jesus Christ on the cross. Kent Hardison runs Ma's Hot Dog stand nearby. He says he was getting ready to spray it with herbicide until he noticed the resemblance. (AP Photo/Daily Free Press, Charles Buchanan)

No. 9: Jesus On a Cliff

American tourist Sandra Clifford took a photo of this cliff allegedly showing an image of Jesus at the Cliffs of Moher in Ireland. Source: <a href="http://www.irishcentral.com/news/US-tourist-says-she-captured-image-of-Jesus-on-Cliffs-of-Moher-133715288.html" target="_hplink">IrishCentral.com</a>

No. 8: Surfing Madonna

The image of the Virgin of Guadalupe on a surfboard is a popular attraction in Encinitas, Calif., and was installed recently by disguised artists under a train bridge.

No. 7: Jesus on a Tea Towel

Roisin McCourt says Jesus' face appeared on one of her stained towels. The 31-year-old dance instructor discovered the discolored smudge after giving the towel a wash in her home in Coventry, England. Though Jesus' likeness might be hard to make out, McCourt believes it is a sign from God.

No. 6: God In Varicose Vein

Audreanna Phelps was at the mall one day when she noticed the word "God" on her leg, spelled out by a vein. Not sure what to think, Phelps asked for her cousin's opinion, then sent a picture to her parents and, according to kwch.com, everyone agreed it looks like the word "God."

No. 5: Jesus in Wax

An "image of Jesus" seen in dripped wax by worshippers at a church in Wiltshire, England, has been removed by a cleaner. The face was first spotted by church warden Nicky Irwin at the parish church of Ogbourne St George at Easter.

No. 4: Virgin Mary and Baby Jesus on Tortilla

Compare this Solis family picture of a tortilla with the image of Virgin Mary and infant Jesus, left, with a Byzantine image of the Virgin Mary, right.

No. 3: Pizza Jesus

Owners of Brisbane, Australia's Posh Pizza shop say that the face of Jesus mysteriously appeared in one of their three-cheese pizzas.

No. 2: Rocking Jesus

Is this a patch of peeling paint on an old wooden rocking chair, or is it the face of Jesus Christ? A couple in Orange County, Calif., say a seat in their backyard contains a striking image of Jesus.

No. 1: Jesus In Walmart Receipt

In June, Jacob Simmons and his fiancee, Gentry Lee Sutherland, said they bought some pictures from a Walmart in Anderson County, S.C., only to notice a shadowy image on the receipt three days later.