Chris Cosentino On Top Chef Masters Season Four (VIDEO)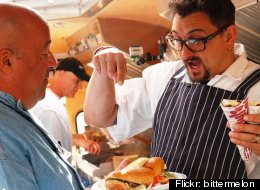 It's Top Chef Masters time again, and this season the Bay Area is being represented by San Francisco's beloved offal chef, Chris Cosentino.
Set in Sin City, season four premiered on Wednesday and immediately allowed Cosentino to shine: his prime rib and catfish in the quickfire challenge gained $5,000 for his charity, the Michael J. Fox Foundation.
The win also granted him immunity in the elimination challenge--a blessing after the Vegas buffet theme was revealed, prompting a classic Cosentino quote that he "didn't come here to make bullsh*t." Our city's snobby reputation lives on.
Considering the first episode alone included showgirls, tears and a trip to the emergency room (slice!), we have a feeling this season will be as exciting as ever.
Top Chef Masters is just Cosentino's latest project. Besides competing for Bravo, he's also been running his restaurant Incanto and shop Boccalone, championing the foie gras ban repeal, swimming in the Tonga Room pool and appearing in the next Wolverine comic book. (Not joking.)
Tune in next week, and check out this clip from episode two, featuring Chris being, well, Chris.
Photo courtesy Flickr: bittermelon