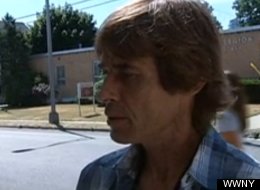 Daniel Avery said he has no regrets about what he did to a head shop that sold his son bath salts.
WWNY Reports that the Watertown, Avery is accused of using a baseball bat to smash the glass front door of Tebb's Head Shop, as well as the store's display case and other merchandise on Tuesday.
Avery's 24-year-old son is in the hospital after overdosing on bath salts. He is expected to recover, but Avery said selling bath salts is unacceptable.
"I have to pay for my actions, that's the way it is, but somebody had to do it," he said. "It has to stop."
The Smoking Gun reports that Tebb's Head Shop employee Trevor Harding told police that Avery told him, "you sold my kid bath salts."
"He kept spazzing out saying he was going to kill me, he had a good son that never did crack or cocaine," Harding said.
Avery now faces third degree criminal possession of a weapon, third degree criminal mischief and second degree menacing charges.
Just one day after Avery was arrested, Tebb's head shop and other stores suspected of selling bath salts in Upstate New York were raided by authorities, according to MyABC.
This photo, courtesy of the Federal Drug Enforcement Administration, depicts what a packet of bath salts can look like.

In Pennsylvania in July 2012, Carla Murphy had a baby, then allegedly took bath salts and attacked nurses and cops. Read more.

Matthew Hammond allegedly snorted "a lot" of bath salts, ate feces and then challenged a cop to a fight, with predictable results in Georgia in July 2012. Read more.

A medical examiner in Miami-Dade County confirmed that bath salts weren't to blame in the case of infamous naked face-eating suspect Rudy Eugene. Read more.

A nude man in Florida was caught on tape in early July 2012 humping the air and screaming "Bath Salts are BAD for you!!!" Read more. Entire video from Youtube user gnomicmedia.

Shane Shuyler allegedly exposed himself to a 3-year-old while on bath salts in Florida in June 2012. Read more.

21-year-old homeless man allegedly growled "I'm going to eat you" and tried to bite a cop while cruisin' on some bath salts and Four Loko in Miami in June 2012. Read more.

Ronald Sellers of Tennessee was allegedly early on the bath salts trend. According to authorities, the man hallucinated a burglary and called the cops to his home while high on the street drug way back in February 2012. Read more.

A drugged-out Mahmound was arrested in Louisville in June 2011 for disorderly conduct, among other charges, after cops found him drinking hand sanitizer. Read more.

A crazed 20-year-old man said to be high on the synthetic drug bludgeoned an elderly woman in the head in late June 2012, according to authorities. He claimed he was an alien who talked to Jesus. (Los Angeles Times reported.) Read more.