Gilbert Arenas' $3.5 Million Mansion With Shark Tank And Grotto For Sale (PHOTOS)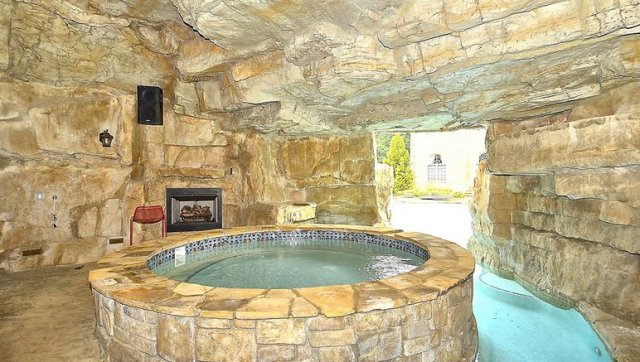 Long & Foster Real Estate
WASHINGTON -- The time to purchase your dream mansion with grotto, shark tank and fire pit for under $4 million is now.
Former Washington Wizard, maybe current Memphis Grizzlies -- his NBA future isn't too secure -- guard Gilbert Arenas has put his Great Falls, Va., mansion on the market.
For only $3.5 million you can be the owner of a home with seven bedrooms, 10 bathrooms, one kitchen, two kitchenettes, one outdoor kitchen, one fire pit (so, like four or five kitchens, depending if you'll use the fire pit for s'mores or a witch's cauldron), fish tank, shark tank, pool and grotto.
Don't think of the grotto and fish tanks as cheap accessories -- Arenas spent at least $1.5 million adding them to the house in 2008, according to The Washington Post.
According to Deadspin, the house has been on the market for a month.
HERE'S THE HOUSE -- STORY CONTINUES BELOW:
Arenas had some great years with the Wizards. Three All-Star appearances, All-NBA Second Team and two time All-NBA Third Team.
Things took a bad turn in late 2009 when he was investigated by police for allegedly drawing a gun on a teammate. Arenas pleaded guilty to the felony of carrying an unlicensed pistol outside a home or business for the incident. He was sentenced to two years of probation, a $5,000 fine, 400 hours of community service and was suspended for the rest of the season.
Arenas didn't spend much more time as a Wizard. Returning to the court in the fall of 2010, Arenas was traded a little over a month into the season to the Orlando Magic. A change of scenery wasn't the best fit for Arenas. In February 2011, he was served with child support and custody papers during halftime of a game.
The following off-season, Arenas got into some Twitter trouble. Javaris Crittenton, the former teammate he got into a scuffle with in late 2009, was charged with murder after a women was fatally shot. Arenas tweeted, "I really wanna say sumthing but i wont becuz theirs a dead woman involved." He later deleted the tweet.
The guard spent the end of the 2011-12 season with the Memphis Grizzlies after being signed on March 20. He was waived by the Orlando Magic in December 2011.
As one Deadspin commenter put it:
This sale will finally complete Arenas's multi-faceted plan to become persona non-grotto in D.C..