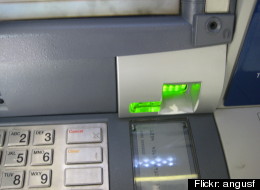 As if we weren't already wary of getting robbed while withdrawing money from an automated teller machine (ATM), high-tech thieves are now giving us good reason to be nothing short of paranoid.
The Secret Service says that more victims than ever are losing money to ATM skimmers, or small devices used by criminals to steal bank card information, according to CBS Local New York. Thieves also install tiny cameras to record people entering their pin numbers.
Here's how the scam works: When you swipe your bank card at an ATM, skimmers -- which can be as thin as a razor blade and therefore hard to detect -- can steal important data from your card's magnetic strip. Thieves can put your card's information on to another card and use your pin number to steal money from your account.
Police caught two criminals in Washington who allegedly used skimmers to steal about $1 million from ATM users, HeraldNet reported in April. Earlier this year, the U.S. Attorney's Office issued a statement about the breakup of a skimming operation that affected more than 40 HSBC ATMs in New York and stole over $1.5 million from bank customers.
"Technology is increasing, and it's become somewhat easier to steal money electronically versus by a gun," Scott Sarafian, a Secret Service agent, told CBS.
The New York Times offers some tips on what you can do to reduce your chances of getting skimmed: Make sure to inspect an ATM for anything out of place such as signs of glue before inserting your bank card; hide the dial pad with your other hand while typing your pin number; and look out for inconspicuous cameras around the vicinity of the machine (because bank security devices are usually overt).
Fraudsters feigned interest in lonely online romance seekers to rob victims of about $50 million last year.

Phony debt collection agencies have pressured victims into giving up millions of dollars. The Federal Trade Commission recently closed down two California-based companies with call centers in India after they defrauded Americans out of $5 million over the past two years.

Craigslist and eBay are a playground for scammers. Consumers have sent payments to places like Nigeria for items advertised online only to discover they have been scammed. Last year, Romanians pretending to be U.S. citizens put fake ads for pricey items on eBay and Craigslist, defrauding Americans out of more than $100 million.

Canadian police arrested a man who tried to take a $70,000 processing fee from an elderly Californian woman who believed she was going to win a $7.5 million lottery prize in April. More recently, eight Jamaican swindlers accused of duping Americans in lottery scams were also arrested.

Fake charity organizations come out of the woodwork to exploit the generosity of others, especially during times of disaster. Most recently, an organization that claims to help disabled veterans called Disabled Veterans National Foundation (DVNF) took millions of dollars from donors without spending the money on veterans.

Scammers targeting struggling homeowners have offered false services to help with mortgage settlements. Mortgage foreclosure scams have shot up 60 percent in 2012 as new federal programs for mortgages have provided avenues for fraudsters to exploit.

Scam complaints related to travelling surged right before spring break last year. Crooks defrauded grandparents out of money when their grandchildren were travelling abroad. The scammers, who find out about the travel plans from places like social media sites, pretend to be the grandchild asking for wire transfers on the phone. The scams have involved scammers pretending in an email to be a victim's travelling relative who has recently been mugged or has lost their passport.

Although there isn't much data on how often it occurs, food scams can pose a tremendous health risk. The chances of dilution and counterfeiting increase when food is imported from other countries, and some foods like fish and olive oil are particularly prone to adulteration.

Scammers have sold drugs to online consumers and then posed as government agents asking the buyers to pay money to avoid jail time. A Texas woman killed herself after being caught up in one of these drug schemes.

Credit card breaches allow fraudsters to make charges on other peoples' cards after getting a hold of numbers. Global Payments Inc., a third party payment processing service for MasterCard and Visa, made headlines in April for reporting that over a million card numbers had been compromised from their system, according to CNET.