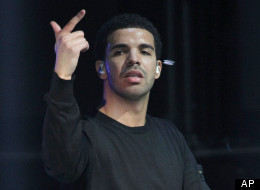 What gives Drake the advantage over other rappers and pop stars? That he's Drake, of course.
In an interview with the Jewish Chronicle, Drake boasted that he doesn't have to put on a false demeanor when making his way through everyday life.
"I'm one of the few artists who gets to be himself every day," Drake was quoted as saying by the publication. "It doesn't take me six hours to get ready and I don't have to wake up in the morning and remember to act like this or talk like this. I just have to be me. That's one of the favorite parts of my life -- I've done this purely by being myself."
Which artists Drake was referring to is unclear, though you could make the argument he was talking about someone like Chris Brown. The two began feuding after their respective posses got into it a fight at W.i.P., a now-defunct New York nightclub known for attracting athletes and hip-hop celebrities. The incident happened back in June and resulted in Brown's chin getting cut open after a liquor bottle was thrown; others were injured as well.
It was rumored that the fight happened over Rihanna, with whom both men were romantically attached.
In response to the fight, Brown released a diss track, "I Don't Like," where he slammed Drake's record label.
"OVO you overdose," Brown sang. "YOLO? No, I live TWICE!" [Ed note: OVO, October's Very Own, is Drake's label-cum-frat. YOLO stands for "you only live once," a Drake motto.]
Listen to Brown's recording below. For more on Drake, including his thoughts on Bar Mitzvahs and the "HYFR" video that you loved and watched 50 times when it came out back in April, head over to Jewish Chronicle.
[via JC]
I Don't Like (Remix) [Drake Diss] - Chris Brown and Game by user8019
"Will Smith don't gotta cuss in his raps to sell his records; well I do, so f**k him and f**k you too!" --Eminem, "The Real Slim Shady"

"And I'll admit, I fell in love with Kim /'Round the same time she had fell in love wit' him/Well, that's cool, baby girl, do ya thing/ Lucky I ain't have Jay drop 'I'm from the team" --Kanye West, "Way Too Cold"

"'But Slim, what if you win, wouldn't it be weird?'/Why? So you guys could just lie to get me here?/So you can, sit me here next to Britney Spears?/S**t, Christina Aguilera better switch me chairs so I can sit next to Carson Daly and Fred Durst/and hear 'em argue over who she gave h**d to first" --Eminem, "The Real Slim Shady"

"Dear John, I see it all, now it was wrong / Don't you think 19 is too young to be played by your dark twisted games, when I loved you so?" --Taylor Swift, "Dear John"

"Every time I scratch my nails down someone else's back / I hope you feel it." --Alanis Morissette, "You Oughta Know"

"Your bridges were burned/And now it's your turn / To cry me a river." --Justin Timberlake, "Cry Me a River"

"So, I'm toptoein', to keep flowin', I got it locked up, like Lindsay Lohan." --Pitbull, "Give Me Everything"

"You fall asleep during foreplay/'Cause the pills you take, are more your forte/I'm not sticking around to watch you go down/Wanna be your lover, not your fucking' mother" --Katy Perry, "Circle The Drain"

"And Moby?/You can get stomped by Obie /You 36-year-old baldheaded f**k, blow me/You don't know me, you're too old, let go/It's over, nobody listen to techno" --Eminem, "Without Me"

"I did anything for a blonde dyke/And she'll do anything for the limelight" --Kanye West, changing the lyrics to "Stronger," at the 2011 Coachella Music Festival

"I get it cracking like a bad back/Bitch talkin' she the queen, she she looking like a lab rat" --Nicki Minaj, "Stupid Hoe"

"Tell Lady Gaga she can quit her job at the post office / She's still a male lady" --Eminem, "A Kiss"

"And all the tears on her guitar/I'm not bitter/But now I see, Everything I'd ever need/Is the girl in front of me/She's much better" --Joe Jonas, "Much Better"

"Him don't give a damn about Bieber, do Him? / What a demon, a behemoth, evil just seems to be seeping through him" --Eminem, "A Kiss"