If you thought you couldn't avoid "Fifty Shades Of Grey" during your public transit commute already, it looks like the erotic novel will inundate the pages of another train diversion this fall when fashion glossies begin running a "Fifty Shades"-inspired ad campaign.
Andrew Marc's upscale brand division Marc New York took inspiration from the steamy storyline for their Fall 2012 ad campaign, which features 2012 "Celebrity Apprentice" contestant and 2008 Miss Universe winner Dayana Mendoza and former Scottish rugby player Thom Evans. The shot captures the two in quite a suggestive pose with Ms. Mendoza's dress unzipped and Thom sporting nothing more than a towel. The overall result is surprisingly tame though considering the influence.
This is an interesting choice for the the brand's very first advertising campaign -- we're not sure how many people will be focusing on the clothes here. But, with everyone trying to snag a piece of the "Fifty Shades" pie (don't forget about all of the book's clothing, makeup and houseware lines coming your way), it's not surprising that the high fashion world would have a go at it. According to Women's Wear Daily, the ads will run in the September and October issues of Glamour and People Style Watch, so the faint of heart should be well-prepared to avert their eyes on the subway by then.
What do you think of Marc New York's "Fifty Shades Of Grey"-inspired campaign? Check out the ad and tell us what you think.
PHOTO: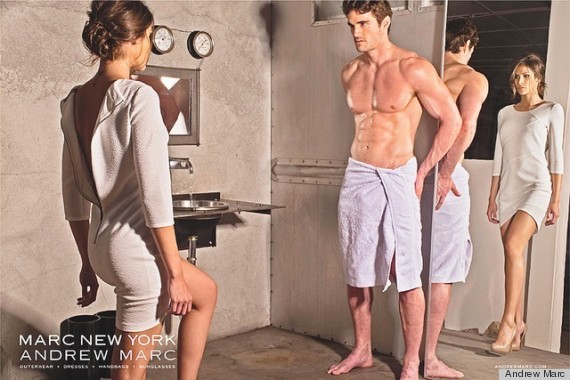 Check out some more controversial ads!
The ASA claims a complainant stated that the ads made the models appear "vulnerable" due to their positions.

The ASA claims a complainant stated that the ads made the models appear "vulnerable" due to their positions.

The ASA said it "inappropriately depicted a young girl in a sexualised manner."

The ASA banned these Ryanair ads in February 2012, deeming them too "sexually suggestive" to run in newspapers.

Banned in November 2011 for showing an "underweight" model and sending an "irresponsible" message.

Banned in November 2011 for its potential to "sexualise a child."

Banned in February 2012, for "misleadingly exaggerated the performance of the product," i.e. smoothing over Rachel Weisz's skin with technology, not makeup.

Banned in November 2011 for showing ''objectified women'' and images that are ''sexually suggestive'' and likely to be seen by children.

Banned in November 2011 for being "sexually suggestive, indecent, provocative."

Banned in November 2011 for its setting, on a rail road track, being "irresponsible."

Banned in July 2011 for "excessive retouching."

Two world leaders making out? That's bound to get banned.

Again, American Apparel gets in hot water when they apparently use underage models (girls younger than 16) on their website. Britain's ASA accused the store of "sexualizing" underage models.

Banned in July 2011 for "excessive retouching."

Two of Universal Studios' posters for "Wanted," starring Angelina Jolie, were banned because of her seductive pose with a gun. The ASA felt it glamorized violence.

Banned in February 2011 for suggesting "the injection of opiates into the body."

Some of American Apparel ads (including the one above) were banned by Britain's ASA for gratuitous nudity; a few more were deemed "exploitative" for sexualizing young women. (American Apparel photo)

In 2012, Lara Stone posed with a group of male models in this Calvin Klein ad. It was promptly banned by Australia's Advertising Standards Bureau after they found it to be "suggestive of violence and rape."

This ad was pulled in Italy in 2011 after the mayor of Venice found it inappropriate.

The British Advertising Standards Authority (ASA) banned this ad after they declared it misleading because Georgia May Jagger is wearing false eyelashes -- even though there's a small disclaimer at the bottom that says, "show with lash inserts."

This was banned in France.

The video of this ad was banned from taxis and the print versions were banned from the facade of Atwood's Madison Avenue store after being found to be too racy.

The Advertising Standards Authority banned this ad because they felt the ad used excessive "post-production retouching" in order to exaggerate the real effects of the mascara being advertised.

In 2004, this Tom Ford Gucci ad campaign became controversial as women saw the girl's shaved pubic hair as degrading and wrong.

Eva's 2008 commercial for Calvin Klein's "Secret Obsession" fragrance was banned, due to the fact that it featured a major wardrobe malfunction.

Kutcher's online ad for PopChips was banned after it was considered racist by the Indian-American community.

A PETA ad, featuring hot women and supposed-to-be "sexy" veggies, was banned from the Super Bowl ad lineup in 2010 for being "too much" for TV.

We don't think we really need to explain why this ad was banned...

This ad was banned after a complaint from Liberal Democrat Jo Swinson who claimed the ad was "misleadingly exaggerated" in that is makes Weisz look far younger than she actually is and presents a bad image for women.

Oh American Apparel, how you love to push the envelope. Here's another one that was banned because the ad is supposed to be promoting socks but it seems more to be exploiting the girl instead.

This Taylor Swift mascara ad was banned by the National Advertising Division of the COuncil of Better Business Bureaus Claims (NAD) after they found the product depiction to be dishonest with it's claims that the mascara will make lashes have "2X more volume" and be "20 percent lighter."

Like Kim's, Paris Hilton's 2005 Carl's Jr. commercial was considered too racy, as well.
Want more? Be sure to check out HuffPost Style on Twitter, Facebook, Tumblr and Pinterest.