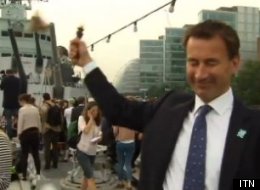 Whether it is the highly anticipated Opening Ceremony or the performances of all of the must-watch athletes, there is a lot to be excited about as the London Olympics are about to get underway.
But UK Culture Secretary Jeremy Hunt may be a bit too excited.
Appearing at a ceremony to ring in the Olympic Games on Friday morning just hours before the official Opening Ceremony, Hunt's aggressive ringing got a bit out of hand.
Fortunately, nobody was hurt and Hunt was able to laugh it off afterward.
@Jeremy_Hunt

Jeremy Hunt