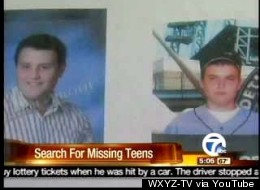 Police sources say they have found the bodies of two suburban Detroit teenage boys who were reported missing by their families earlier this week.
The bodies were found in a field near Lyford Avenue and Gilbo Street on Detroit's east side, which is close to Detroit's City Airport. Both had been shot in the head and were positioned face-down on the ground.
Jourdan Bobbish, 17, and Jacob Kudla, 18, both of Westland, Mich., disappeared on Sunday night after leaving the home of Kudla's uncle on the east side of Detroit. His home is about five miles from the field where the bodies were found Friday morning.
While the Detroit Police Department hasn't officially identified the victims, WXYZ says members of the two boys' families have joined investigators in the empty field where the bodies were discovered.
The two boys were last seen driving in a white 2001 Chevrolet Cavalier. Kudla's mother told reporters that she believes the two boys were carjacked Sunday night after having picked up marijuana from a relative.
The next day, police discovered two men stripping the same Chevrolet Cavalier outside an apartment building on the city's west side. A Crime Stoppers news release says the men were caught with the radio, speakers and bass from the Cavalier. They arrested the men, who have been called "persons of interest" in the investigation, but did not find Bobbish and Kudla. Near the car, however, lay a cane that Kudla, who had a prior injury, often used. Police say the two men arrested with the vehicle are cooperating with the investigation. A $25,000 reward was being offered.
On Tuesday, the boys' families canvassed the Detroit neighborhood where the car was discovered, knocking on doors and combing abandoned buildings. WXYZ says residents of the neighborhood near Beechwood and Lisdale helped in the search and hugged the families.
Thursday, about 200 people attended a candlelight vigil for the two missing Westland teens at Churchill High School.
Tragic Detroit Deaths And Crimes
In June, 2012, police searching for missing one-year-old Zyia Turner found her dead in a closet under a pile of clothes at her family's home. Her mother left her in her grandmother's care, who in turn left her at home with an uncle while doing errands. Grandmother Bridget Elam says it must have been an accident and her son had helped raise his other nieces and nephews.

Latonya Bowman was allegedly abducted at gunpoint by ex-boyfriend Jamal Rogers (shown) and Antonio Mathis, who drove her to a field, doused her in lighter fluid and set her on fire before shooting her. Bowman reportedly played dead and is expected to recover despite suffering burns. She gave birth to a boy on May 29, 2012 via emergency cesarean section hours before Rogers and Mathis were arraigned on charges of attempted murder and other crimes. (AP Photo/Warren Police Department)

In April 2012, five men were charged with the abduction and slaying of Abreeya Brown and Ashley Conaway, two friends and roommates who lived in Hamtramck. The men allegedly kidnapped the women at gunpoint and put them in the trunk of a car.

After William and Brenda Evans, a couple living on the east side of Detroit, were killed in their home in May, their daughter Tierra Evans claimed they were killed over a lottery ticket. While the Detroit Police Department believed drugs were involved, Tierra Evans denied drug involvement. Instead, she said her father was known as "Dollar Bill" in the neighborhood for his lottery luck and it was known that he had a winning ticket.

In April 2012, 19-year-old Brian Douglas White snapped after his girlfriend broke up with him and allegedly killed his ex's new boyfriend, Jacob Burns, and her mother, Angela Staperfene, before fatally shooting himself. White's ex-girlfriend reportedly suffered injuries but survived the attack.

Two-year-old Bianca Jones went missing in December 2011, when father D'Andre Louis Lane reported his car stolen from a gas station with his daughter inside. The car was recovered, but Jones was not there and was not found after lengthy searches. In March, Lane was charged with his daughter's murder as well as child abuse. In the photo, Bianca Jones' mother Banika Jones holds a photo and missing poster of her daughter in Detroit, Monday, Dec. 5, 2011. (Paul Sancya / AP Photo)

Clayton Carter, owner of Can You Picture This, holds a T-shirt made in memory of Demesha Hunt, 24, left, and Renisha Landers, 23, right, on Tuesday, Dec. 27, 2011, in Detroit. Hunts' and Landers' bodies were found Dec. 19, 2011, in a car trunk in Detroit. Police discovered the badly burned bodies of two other women on Sunday, Dec. 25, 2011, in a car trunk. Police have said three of the four women had promoted themselves as escorts through the same website, Backpage.com. In May 2012, police arrested two men in Sterling Heights and held them for questioning as part of their investigation. (David Runk / AP Photo)

As the Movement electronic music festival took place in May in Detroit, a shooter opened fire in a downtown crowd near the Renaissance Center, killing one man and injuring two others. The police department says the music festival was not linked to the shooting.

In May 2012, Detroit Police officers shot a 72-year-old man three times. They allege he charged at them with a knife.