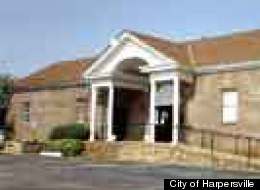 Picture a small Southern town where crime is so low that municipal court is in session just twice a month.
Imagine the city getting rid of probation officers in favor of a private company that doesn't charge a cent, but instead makes its money from the fines imposed on people convicted of misdemeanors and traffic violations.
It happened in Harpersville, Ala. -- until a state judge recently shut down the privately run probation system, saying it amounted to a "debtors prison" after a lawsuit was filed by four people who claimed they were jailed unfairly and fined excessively without a judges order.
Earlier this month, Circuit Court Judge Hub Harrington suspended Harpersville's partnership with Judicial Correction Services because "unalienable rights have for some time been routinely denied by the city," his order said.
But a JCS executive disagreed with Harrington and denied some of the alleged abuses. "There are some conclusions in that order that do not necessarily describe the facts as we know them," Chief Marketing Officer Kevin Egan told The Huffington Post. "JCS believes we've done everything in accordance to federal and state law."
Harrington found "egregious abuses" by the city and JCS who allowed people guilty of minor offenses and traffic violations to be charged steep fines and, in some cases, jailed for failing to pay them off.
The contention that Harpersville and JCS sent the indigent to a so-called debtors prison is untrue, Egan said to HuffPost.
"Not a single one of those folks have had their probation revoked for not being able to pay fines," he said. "There was always something going on besides not paying fines," such as skipping mandated court appointments, flunking out of drug programs or getting arrested again.
KNOW THE KEY PLAYERS (Story continues below)
The Fight Over Harpersville Municipal Court
Harpersville is a small Alabama city east of Birmingham in the limelight, because of a lawsuit over how the city handles probation cases through a private company.

Harpersville cannot send certain defendants to Shelby County Jail without permission from state Circuit Court Judge Hub Harrington. Harrington took control of probation cases, because he found evidence that the city and its contractor Judicial Correction Services were jailing people who couldn't repay fines and court fees.

JCS has contracts with more than 100 courts in Alabama, using its employees to act as probation officers in many areas. The company is often hired in towns and cities that cannot afford to run their own probation programs.

Garrison is an attorney for four plaintiffs suing the city of Harpersville because of alleged abuses in its probation system. His clients say they've been thrown into jail for being unable to pay fines and put on probation for longer periods than the two-year maximum.

Mayor Perkins is a two-term incumbent in the city of Harpersville. He declined to talk about the lawsuit but told The Huffington Post that he'd abide by the judge's orders
Egan also countered a finding by Harrington that JCS "ordered" people to appear in court, though it lacked the authority to do so. "We only order people to appear in court if told to do so by a court clerk or judge," he said. "We don't make a lot of decisions. The court makes decisions. We report the information."
JCS has similar arrangements to act as probation officers in more than 100 other courts around the state where many small towns and counties can't afford their own probation systems.
The lawsuit was filed in 2010 and has grown to include four plaintiffs claiming that the public-private partnership has run roughshod over the small town east of Birmingham. An attorney for the plaintiffs said those who couldn't pay their fines and court fees right away were forced into a monthly repayment plan where the total costs ballooned. In some cases, a monthly probation fee was imposed that exceeded the state's cap of $35 a month.
"Municipal court is low on the ladder, but when it's overlooked, things are allowed to fester," said attorney Kevin Garrison. "There are some major procedural flaws in the entire process."
Garrison points to Debra Ford as a poster child for problems in the Harpersville system. Ford was cited for driving with a revoked license in 2007. After being found guilty, she emerged from court with a $422 bill, which mushroomed to more than $2,200 because she was unable to pay immediately. At one time Ford was jailed for several months, Garrison said, because she fell behind on the tab.
The assertion that JCS only ordered people to appear in court on behalf of the clerk or municipal judge wasn't satisfactory, Garrison said, because neither the city nor JCS provided written records of many of these orders.
City officials and the plaintiffs will be back in court next month. Until then, Harrington's order forbids the city from sending certain defendants to Shelby County Jail without his permission. The city must also allow people 30 days to pay their court-related costs and penalties, he ordered.
JCS has contracted with Harpersville for about five or six years, Egan said. Estimates vary, but about 100-200 cases are on the docket per month in city court.
Mayor Theoangelo Perkins declined to comment to HuffPost about the lawsuit and calls to the city's attorney were not returned.
Garrison applauded Harrington for shutting down the private probation system. "It was pretty courageous," he said. "This is a politically elected Republican state court judge who was just disgusted by what he saw. if you look at our state's history, it's rare that you see a state court judge taking this kind of action."