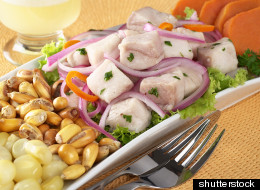 Happy Independence Day, Peru!
Yes, we all know that Peru is widely known for their pre-Columbian Inca site, Machu Picchu, but if you know anything about Peruvians is that they are very proud of their diverse cuisine.
And, with good reason. In October 2011, Frommer's picked Peru as their Top Food & Drink Destination of 2012. Lima is now drawing a new flock of visitors who travel all the way to Peru just to eat.
But, do not fret. You don't have to travel all the way to South America for a taste of Peru's cuisine. Luckily, Peru's national newspaper, El Comercio, compiled a Google map of Peruvian restaurants around the world.
From Los Angeles To New York, this map has got you covered. Try some ceviche (a dish is typically made from fresh raw fish marinated in citrus juices such as lemon or lime) or pollo a la brasa (Peruvian rotisserie chicken) but don't forget a well-done Pisco sour (cocktail made up of grape brandy and lime or lemon) juice, syrup, ice, egg white, and Angostura bitters).
With over half a million Peruvians in the United States, it's no wonder so many Peruvian restaurants have starting popping up all over the nation.
DISCLAIMER: ¡La comida peruana es la mejor del Mundo! which translates to, "Peruvian food is the best in the world!", is what you will hear every Peruvian say... just embrace it, there's no point in arguing.
¡Que Viva Peru!
Check out some photos of Peru:
Peru's Senor de Choquekillca
A boy marches with his troop.

Women dance in formal purple dresses.

For every cowboy, there is a lovely lady.

Celebrants stand on endless lines.

Hair as intricate as the hat.

Two boys walk toward the celebration through Ollantaytambo's main square.

It can be hard to tell who is part of the party and who isn't.

A young girl watches the dances in the main square.

Concentration is a necessary ingredient of line dancing.

The men whipped themselves and each other, playing the violent fools.

The monsters seemed lethargic.

Monsters need breaks too.

Spiders are delicious.

The celebrations collides with everyday life.

Men rest during a church service.

In Peru, there is always an Alpaca around when you need one.

Age is about attitude.

The dancing goes on for days so some dancers nap when they can.

A bonfire attracts young celebrants and men selling cheap liquor.

A local man transports back up beer supplies.

The courtyard of an old Ollantaytambo home.

Ollantaytambo seen from a ruined Incan grain storage facility on a nearby hill.

The Inca took advantage of the Sacred Valley's bounty. The Spanish took advantage of the Inca.

Shepherds get the best views.

The mysterious Incan relic at Moray might have been ceremonial. It might have been a garden. No one really knows.

A burro contemplates his lifestyle.

The area near Moray boasts a large and ancient salt mine.

A salt miner considers his work, which involves reorienting various rivulets and carrying sacks up the hillside.

Not far outside of Ollantaytambo, mountains climb up towards a final pass before collapsing toward the Amazon.