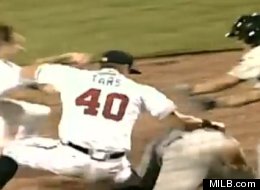 The Mississippi Braves' 7-3 win over the Mobile Baybears on Saturday was overshadowed by an ugly bench-clearing brawl in the ninth inning.

With Mobile's (Diamondbacks affiliate) Rossmel Perez on third, Mississippi (Braves affiliate) pitcher Michael Tarsi threw a wild pitch that flew inside past the catcher. Perez scored sliding into home plate and took out the legs of Tarsi who was covering. With his pitcher knocked down, Mississippi catcher Christian Bethancourt charges at Perez and all of the sudden, both benches were cleared as a huge fight broke out.
Betancourt and teammate Alden Carrithers were ejected. BayBears manager Turner Ward and Perez were also thrown out.
(Video via MiLB.com)