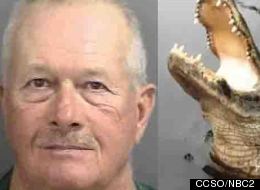 An Everglades City airboat captain whose hand was bitten off has been charged with unlawful feeding of an alligator.
In June Captain Wallace Weatherholt, 63, who works at Captain Doug's Small Airport Tours, was out with six tourists when the attack occurred.
The Indiana family onboard said that Weatherholt held a fish out above the water's surface just before a gator leapt up and bit off his hand.
Weatherholt was able to drive himself back to the docks. Meanwhile wildlife officers tracked down the gator and killed it before retrieving the captain's hand from its stomach.
However doctors were unable to reattach Weatherholt's lost limb.
Feeding gators is a second-degree misdemeanor in Florida. Weatherholt was held in Collier County Jail on $1,000 bond but has since posted out.
David Weathers, a nuisance-alligator trapper told Fort Myers News-Press, that when gators are fed, they lose their natural fear of humans and are more likely to attack.
In cell phone footage taken by a NBC2 producer who was on a Captain Doug's tour a few weeks prior to Weatherholt's injury, an unidentified airboat captain can be seen feeding a large gator who jumps feet out of the water towards the food.
Watch the video above.

EVERGLADES NATIONAL PARK, FL - AUGUST 05: An alligator floats in a pond in the Florida Everglades after the South Florida Water Management District announced it may reduce the size of the deal it had announced earlier in the year with U.S. Sugar on August 5, 2010 in the Everglades National Park, Florida. The original proposal, announced in 2008, was to buy all of the U.S. Sugar Corporations assets and use the land to replenish the Everglades, letting water from Lake Okeechobee run its natural route. The plan now because of state budget cut backs is to buy 26,800 acres and retain a 10-year option to buy the rest of the land. (Photo by Joe Raedle/Getty Images)

In this 2009 photo provided by the National Park Service, a Burmese python is wrapped around an American alligator in Everglades National Park, Fla. The National Academy of Science report released Monday, Jan. 30, 2012, indicates that the proliferation of pythons coincides with a sharp decrease of mammals in the park. (AP Photo/National Park Service, Lori Oberhofer)

American alligator 'Big Mumma' guards her straw nest (R) at the Australian Reptile Park near Sydney on January 13, 2012. The park collects the clutch of eggs in order to artificially incubate them to determine the gender before distributing the hatchings to zoos around Australia. AFP PHOTO / Torsten BLACKWOOD (Photo credit should read TORSTEN BLACKWOOD/AFP/Getty Images)

Reptile keepers Brad Gabriel (R) and Chris Wallace (C) try to control American alligator 'Mr Skinny' while alligator eggs are collected from a nearby nest at the Australian Reptile Park north of Sydney on January 13, 2012. The park collects the clutch of newly laid eggs in order to artificially incubate them to determine their gender. The hatchings are then distributed to zoos around Australia. AFP PHOTO / Torsten BLACKWOOD (Photo credit should read TORSTEN BLACKWOOD/AFP/Getty Images)

A keeper offers a Christmas chicken to an American alligator at the Australian Reptile Park near Sydney on December 22, 2011. The park displays 157 species of native and exotic fauna as well as hosts a breeding programme for endangered animals. AFP PHOTO / Torsten BLACKWOOD (Photo credit should read TORSTEN BLACKWOOD/AFP/Getty Images)

LAKE BUENA VISTA, FL - NOVEMBER 11: An alligator watches the action on the 9th hole during the first round of the Children's Miracle Network Classic at the Disney Palm and Magnolia courses on November 11, 2010 in Lake Buena Vista, Florida. (Photo by Sam Greenwood/Getty Images)

EVERGLADES NATIONAL PARK, FL - AUGUST 11: An alligator is seen in the Florida Everglades on August 11, 2011 in the Everglades National Park, Florida. The Obama administration announced it will pump $100 million into Everglades restoration. The money will go to buy land from ranchers as much as 24,000 acres - some 37 square miles - in four counties northwest of Lake Okeechobee and preserve them under permanent conservation easements. (Photo by Joe Raedle/Getty Images)

An alligator swims at the Everglades National Park, Fla., Monday, April 23, 2012. (AP Photo/Alan Diaz)

In this photo taken Tuesday, Aug. 30, 2011, Kenny Deutsch with Tigertail Airboat Tours holds up a baby alligator in the Florida Everglades. A seemingly door-shut debate over expanding Everglades oil drilling was singlehandedly reignited by Republican presidential candidate Michele Bachmann, when the Minnesota congresswoman said this week she