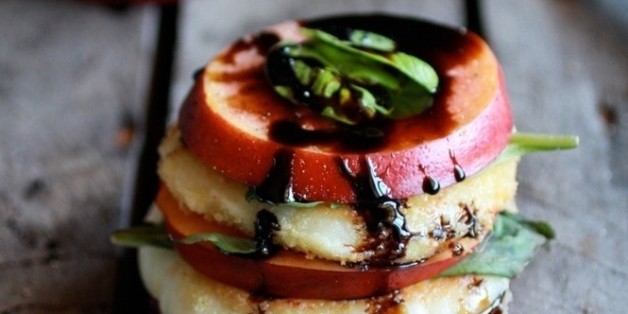 Half Baked Harves
Nothing says summer like a Caprese salad -- the classic Italian antipasti of sliced tomatoes layered with mozzarella and basil, then drizzled with olive oil. It's a delicious and refreshing salad that's especially perfect in the summertime when tomatoes are at their best.
If you love Caprese salads like we do, you're going to be eating so many this summer that you might want to experiment a little. Tomatoes, basil and mozzarella go well with pretty much everything, which means there are countless ways besides salad to eat them. Here are 26 great twists on the classic.
1

Caprese Grilled Cheese with Arugula Pesto

Feasting At Home

2

Caramelized Peach Caprese Salad With Smoked Sea Salt

How Sweet It Is

Zoom Yummy

The Parsley Thief

Foodie Crush

Pinch of Yum

7

Caprese-Style Grilled Pizza

Gastronomer's Guide

bell'allimento

Steamy Kitchen

10

Roasted Tomato Grilled Caprese Grilled Cheese

How Sweet It Is

11

Caprese Mac and Cheese

Macheesmo

12

Caprese Salad With Bocconcini

La Cuisine d'Helene

13

Caprese Burger: Heirloom Tomato, Mozzarella And Basil

Savoring The Thyme

14

Fried Mozzarella, Basil and Nectarine Stacks with Balsamic Glaze

Half Baked Harvest

Life Tastes Like Food

16

Honey Grilled Watermelon Caprese Salads

How Sweet It Is

17

Caprese Orzo Pasta Salad

The Kitchy Kitchen

18

Caprese Sandwich With Pepperoni

Spinach Tiger

A Spicy Perspective

Two Peas and Their Pod

21

Eggplant and Tomato Napoleons

Inspired Taste

22

Watermelon Feta Caprese Bites

Bev Cooks

Aromatic Delights

Alexandra Cooks

Macheesmo

26

Spaghetti with Tomatoes, Fresh Mozzarella, and Garlic Oil

Dinner Was Delicious
Want to read more from HuffPost Taste? Follow us on Twitter, Facebook, Pinterest and Tumblr.

YOU MAY LIKE
CONVERSATIONS
FOLLOW HUFFPOST