There was a time when makeup was simply about enhancing your natural features, but now it seems nature has nothing to do with it. Avant-garde makeup artists like Ayami Nishimura have turned cosmetics from a morning ritual to a full-blown art form, turning the face into a living canvas.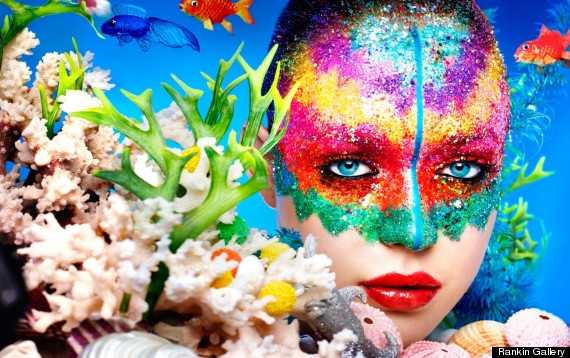 The makeup artist incorporates Japanese traditions into her visions, along with images of nature, projections of a cyber-crazed future, African art, animals and... well "everything, really," in her words. Nishimura's painted faces combine the wild freedom of nature with technology's ambitious drive, offering makeup as a mask, an escape or an entrance to a dream world. Forget about enhancing cheek bones, Nishimura's models are transformed into aquatic gems, haunted Harajuku girls and human gardens. In one particularly striking look, a woman cries tears of multicolored neon paint.
Now Nishimura is collaborating with British photographer Rankin on a fearless exhibition of faces not as they are, but as they can be. International tastemaker Rankin recently launched the magazine and web channel "Hunger," feeding his readers and viewers art, music and barely legal starlets. The collaboration with Nishimura is Rankin's second beauty book and will also show as an exhibition at the Rankin Gallery in LA. Part fashion spread, part fairy tale, the images show what can happen when two creative powerhouses from completely different worlds collide.
Rankin presents Ayami Nishimura at Rankin Gallery from August 7 - September 18.
See a slideshow of the work below, and let us know your thoughts in the comments section:
SUBSCRIBE TO & FOLLOW CULTURE SHIFT
Every Friday, HuffPost's Culture Shift newsletter helps you figure out which books you should read, art you should check out, movies you should watch and music should listen to. Learn more