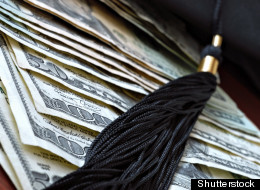 Graduating college is an exciting experience. It's the start of the rest of your life. You get to walk away from classrooms and exams and finally hang a diploma on your wall.
Oh yeah, there's also the whole part about repaying your student loans.
This was the part you pretended you could avoid, but now that it's here, what do you need to know? We talked to a few experts and have a bit of advice for you in the slideshow below.
I Just Graduated From College, What Do I Do About My Student Loans?
"The grace period on a private loan is typically 6 months from the time of graduation," Sue Khim, the founder of Alltution.com says. "You won't have to make any payments, but interest will still accrue. The grace period is a great time to formulate a plan of action." Federal student loans carry a six month grace period as well. You'll probably start getting mail or calls from your lender as the grace period ends. Be aware of how long you will have to make repayments. For example, Discover student loans have a repayment period of up to 15 years for regular degrees, but a 20 year repayment for advanced degrees. Check on the websites of your lenders, whether it's Discover, Wells Fargo or another bank, or the federal government, to see if they have any tools to help calculate what you'll be paying. "The grace period also is a good time to establish a monthly budget that includes a student loan payment," says Steve Olszewski, SVP of Discover Student Loans. "For example, during the grace period, a borrower might set aside each month the money they would normally use for a payment, which would give them a feel for what's left to pay remaining monthly expenses and leave them some cushion money."

Your loans were likely already in deferment while you were in college if you were a full-time student. Most loans include a 6 month grace period after that. But you can apply for an extended deferment. "If you're unemployed or struggling financially, a deferment or forbearance will put your payments on hold for a short time," Khim explains. "The big difference here is that interest won't accrue on your subsidized [federal] loans during deferment, but it will build up during forbearance." You can set up a deferment or forbearance any time, even near the end of your grace period. "Common reasons for deferments include active military duty, public service and health care residency," says Steve Olszewski, SVP of Discover Student Loans. A representative from Wells Fargo says that if a borrower is struggling to make payments, and allows the loan to go into a delinquent status, lenders might have fewer options available. Federal and private loans will continue to accrue interest during a forbearance or deferment period. Khim also adds that you should never miss a payment, and if you think you might, contact your lender immediately. "You'll want to avoid missing a payment like the plague--nothing good can come of it," she says.

Consolidating your loans means you would apply for a new loan that would cover what you currently owe. You would then start paying the new loan. "When students consolidate their student loans, they generally are combining multiple loans into a single loan with one monthly payment. In some cases, banks will extend the new loan repayment period with lower monthly payments," Olszewski says. "However, a longer repayment period increases the amount students pay over the life of the loan because more interest will accrue during the extended time frame." You don't have to go through the same bank you got your private loans through, either. If you have loans from, say, Wells Fargo, you can go to a another local or national bank for a consolidation loan. However, Wells Fargo also has their own consolidation loan to offer. "Consolidation does lower your monthly payments, but it also means you'll be paying for a longer time and paying more overall," Kihm says. One thing to know -- private and public loans cannot be combined here. If you have private loans from more than one bank, you can consolidate them together. However, the public loans you got from the government do not work for consolidation. If you do decide to consolidate multiple federal student loans, into one monthly payment to a single servicer, Olszewski notes "the interest rates for consolidated federal loans are fixed and cannot exceed 8.25 percent." If you're not sure you want to do consolidation, check about other options that may be available. Extended repayment is one option Wells Fargo offers to "certain borrowers and payments may be based on a fixed or graduated repayment schedule over a period of up to 25 years." A number of lenders also have graduated repayment, where you make lower payments at first, then gradually increase them. If you don't want to consolidate, check to see if your servicer can at least adjust the schedule so you have payments to each lender due at the same time each month.

It's not easy. Student loans from the federal government cannot be erased in bankruptcy, and thanks to a 2005 change in the law, private student loans are not eligible for bankruptcy either. In a statement, Wells Fargo said in the event of permanent death or disability of the student, they offer loan forgiveness for any private student loans used to directly cover education-related expenses.

There are a few ways to get that debt off your back, most of them involve public service: Teach for America offers an AmeriCorps Education Award, which allows TFA participants, having completed two full years of teaching, to write off up to $10,700 in student loans. Several states also offer incentives to help you pay off or write off student loans if you take positions they need filled in their state for a certain number of years. The Peace Corps pays down 15 percent of all Federal Perkins Loans for each year of service. After the third year, participants are eligible to write off 20 percent of all Perkins loan debt per year. Enlisting in the U.S. Armed Forces also makes it possible to write off $65,000 in student loan debt. Want to get rid of them without using the federal government? Try CollegeNET.com offers a weekly scholarship of up to $10,000 to participants who write blog posts. The author of the highest-rated blog gets the weekly scholarship - applicable to both current tuition AND tuition debt. To date, they say they've awarded over $1,000,000 in scholarships.