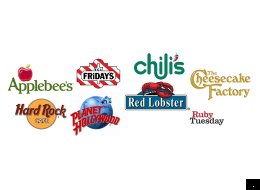 The time has come. HuffPost Food's Chain Food Showdown has reached its end. After sampling common appetizers from Applebee's, The Cheesecake Factory, Chili's, Hard Rock Cafe, Planet Hollywood, Red Lobster, Ruby Tuesday and T.G.I. Friday's, we have learned that some are totally worth it (calories aside) and some we'll never eat again.
What originally turned us on to evaluating the most common fare at the biggest restaurant chains was a surface level understanding of how many major casual dining restaurants work. In some of these chains, food is often pre-prepared in a central kitchen, and then frozen to be shipped and re-heated across the country. We read fascinating tales of this process, such as the section on Applebee's in Tracie McMillan's "The American Way Of Eating" or the discussion of Chili's in David Kessler's "The End Of Overeating."
Perhaps the viral review of an Olive Garden in Grand Forks, North Dakota proved just how much casual dining can resonate with the American audience.
In our evaluation of American casual dining food, we chose eight prominent chains that serve similar American fare across the country. Although locations and number of outlets vary, we felt that all eight epitomized the casual dining experience, perhaps best evidenced by the amount of dish overlap on all menus. In choosing which dishes to evaluate, we stuck to what we deemed the most sought-after appetizers.
As we kept eating our way through the various menus, we were surprised by the huge range across the food categories. While certain chains overall performed better than others, the more appropriate comparison was really about single dishes, rather than a restaurant as a whole.
Here's a recap of the previous Showdowns:
Week 1: Buffalo Wings
Week 2: Nachos
Week 3: Mozzarella Sticks
Week 4: Potato Skins
Week 5: French Fries
Week 6: Onion Rings
Week 7: Spinach Dip
Week 8: Chicken Strips
As you can see, some chains fared much better than others.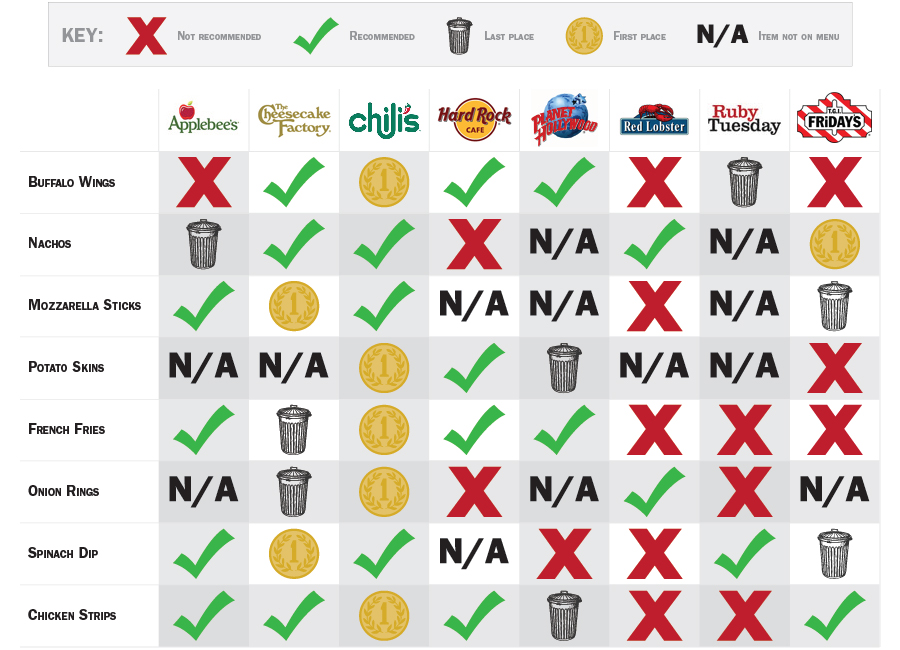 Below, we go into a bit more detail about each chain, and why they scored the way they did.
Chain Food Showdown Wrap-Up
First Place: Buffalo Wings, Potato Skins, French Fries, Onion Rings, Chicken Strips Recommended: Nachos, Mozzarella Sticks, Spinach Dip Chili's pretty much killed it -- every single item we tried was either recommended or was the winner (five out of eight!) in its category. Everything was made as it should be, and that's really what separated the winners from the losers. While nothing at Chili's was extraordinary, none of the dishes were cooked poorly, or weren't tasty. The food at Chili's tasted as you expected. It was indulgent without being greasy, fried without being overkill.

First Place: Mozzarella Sticks, Spinach Dip Recommended: Buffalo Wings, Nachos, Chicken Strips Last Place: French Fries, Onion Rings When we discussed with colleagues the chains we were visiting, everyone assumed that The Cheesecake Factory would trump the competition by far. People typically seem to love the wide-ranging menu and massive portions. While the food at Cheesecake Factory was definitely better than most (spinach dip with actual spinach, mozzarella sticks with quality cheese ), the french fries and onion rings were the worst we sampled. But there's plenty more to choose from.

Recommended: Buffalo Wings, Potato Skins, French Fries, Chicken Strips Not Recommended: Nachos, Onion Rings Hard Rock Cafe was generally solid. Unlike Cheesecake Factory, nothing was especially gross. But overall, Cheesecake Factory still gets the edge because it had some especially good dishes, whereas Hard Rock just had some solid ones. The nachos were the most disappointing -- to use an extremely technical term, we found them quite "blah."

Recommended: Mozzarella Sticks, French Fries, Spinach Dip, Chicken Strips Not Recommended: Buffalo Wings Last Place: Nachos Similar to Hard Rock Cafe, Applebee's also struggled with its nachos. Too. much. lettuce. Beyond that, Applebee's food was generally fine -- nothing amazing but nothing horrifying. It could be worse. Much worse.

First Place: Nachos Recommended: Chicken Strips Not Recommended: Buffalo Wings, Potato Skins, French Fries Last Place: Mozzarella Sticks, Spinach Dip T.G.I. Friday's was full of huge inconsistencies. Their nachos appetizer was not only the winner of that category, but also one of the best dishes across all categories. We loved them. That can't be said for most of the other items though. Except for the chicken strips, everything was pretty awful. The mozzarella sticks were horrible on account of both the breading and the cheese. The chips for the spinach dip were soapy. Stick to the nachos and steer clear of mostly everything else.

Recommended: Nachos, Onion Rings Not Recommended: Buffalo Wings, Mozzarella Sticks, French Fries, Spinach Dip, Chicken Strips Red Lobster had no winners but a lot of losers. With the exception of the excellent onion rings and the tasty nachos, we'd avoid everything else. The spinach dip sticks out in our minds as particularly egregious -- it was separated and very oily. They should get bonus points for their cheesy biscuits though -- those are good.

Recommended: Buffalo Wings, French Fries Not Recommended: Spinach Dip Last Place: Potato Skins, Chicken Strips Planet Hollywood doesn't quite get last place thanks to a few dishes that weren't too horrible. But it was by far our worst dining experience because when the dishes were bad, they were REALLY bad. We never want to see those chicken strips again. And when you're calling something potato skins but they appear in large chunks, it doesn't really count.

Recommended: Spinach Dip Not Recommended: French Fries, Onion Rings, Chicken Strips Last Place: Buffalo Wings Poor Ruby Tuesday. You didn't really have that much going for you, though we wish your salad bar could count for something. While most of the dishes weren't outright disgusting, they just weren't very good either. Your spinach dip was a saving grace, which was...decent enough.
Editor's Note: We dined at all chains anonymously -- no restaurant knew that we were evaluating the cuisine. The chains we visited were all located in the New York metro area.