WASHINGTON -- The likely inclusion of a plank supporting marriage equality in the Democratic Party platform reflects a significant shift in opinion among Democratic voters over the last 8 years, according to a new national poll.
The latest survey by the Pew Research Center, conducted June 28 to July 9, finds that nearly two-thirds of Democrats nationwide (65 percent) favor allowing gays and lesbians to marry legally, while just 29 percent are opposed. That finding marks a reversal from just eight years ago, when just 40 percent of Democrats approved of gay marriage and 50 percent opposed it.
Support for same-sex marriage has grown most rapidly among Democrats, according to the Pew Research poll, which also shows support has risen gradually among independents and Republicans over the last eight years. Overall, their July survey now shows slightly more support for gay marriage (48 percent) than opposition to it (44 percent).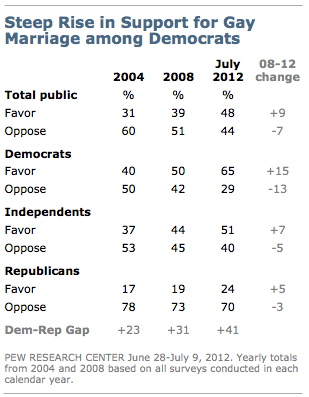 While the new survey confirms these long-term trends, it also yields little evidence that President Barack Obama's endorsement of same-sex marriage in May has had a significant impact on public opinion on the issue beyond the Democratic base. Forty-seven percent of Americans surveyed by Pew Research in April supported same-sex marriage while 43 percent opposed it, results that differ from those of the most recent survey by just one percentage point.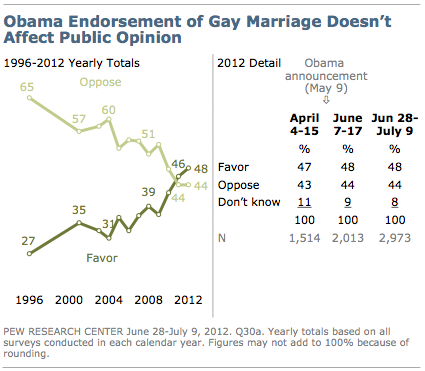 The exception may be liberal Democrats, whose support for same-sex marriage increased from 73 percent in April to 83 percent in the most recent survey.
However, the Pew Research report notes that beyond liberal Democrats, attitudes have not shifted among other segments of the public. In particular, it found that African Americans remain opposed to same-sex marriage. In the current survey, 40 percent of blacks favor gay marriage and 51 percent are opposed, roughly the same result as in Pew's April survey, when 39 percent were in favor and 49 percent opposed.
That last result contradicts the findings from surveys conducted in the immediate aftermath of the Obama's endorsement. For example, an ABC News/Washington Post survey in May found support for gay marriage among African Americans had increased to 59 percent.
Also on HuffPost:
Loading Slideshow
Connecticut

Since November 12, 2008

Delaware

Gay marriage law <a href="http://www.huffingtonpost.com/2013/05/07/delaware-gay-marriage-law-_n_3232771.html" target="_blank">enacted</a>, weddings to begin July 1.

Iowa

Since April 3, 2009

Maine

In 2012, Maine voted in favor of a ballot amendment to legalize gay marriage.

Maryland

The gay marriage bill was signed into law by Gov. Martin O'Malley (D) on March 1, 2012. Opponents later gathered enough signatures to force the issue back onto the ballot in November 2012, but voters rejected the effort against gay marriage.

Massachusetts

Since May 17, 2004

Minnesota

Same-sex marriage bill signed into law in May. Gay marriages will begin in August.

New Hampshire

Since January 1, 2010

New York

Since July 24, 2011

Rhode Island

Bill passed in May. Law takes effect on August 1, 2013.

Vermont

Since September 1, 2009

Washington

On February 13, 2012, Gov. Christine Gregoire (D) signed a law allowing same-sex marriage ceremonies to begin on June 7, 2012. The process was delayed by gay marriage opponents who gathered enough signatures to put the issue up to a state vote in November 2012. They voted to approve it on Election Day.

Washington D.C.

Since March 9, 2010

California

The state initially began conducting gay marriages on June 16, 2008. On November 5, 2008, however, California voters passed Proposition 8, which amended the state's constitution to declare marriage as only between a man and a woman. In 2013, the Supreme Court ruled against that law, and the state shortly thereafter began sanctioning same-sex nuptials.