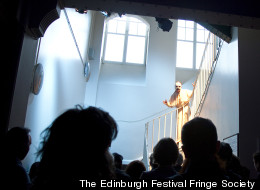 Every August, the Scottish capital of Edinburgh becomes host to the world's largest arts festival. The Edinburgh Festival & Festival Fringe is known for its theater and comedy, but dance, visual art, and music are also represented.
The festival dates back to 1947, when eight theatre groups showed up to participate in the recently formed Edinburgh International Festival, only to be turned away at the door. Of course being committed theater artists, they took to the streets and performed anyway. In 1959 the Festival Fringe Society was formed, and the rest was history. Today, the festival functions without a selection committee. What's so unique (and great) about the Fringe is that anyone can take part.
This year, there are so many shows--we're talking 2,695 to be exact--that it's impossible to see them all. Or if you're stuck in the States like us, you can "see" them vicariously through reviews and the enticing descriptions provided in the online program.
But hey a person can dream, right? We did our research and put together a wish list of the shows we'd see this year if we were going. Click through below, and let us know if you're planning on seeing any of them for real!
The 2012 Edinburgh Festival Fringe runs from August 3 - 27 in Edinburgh, Scotland.
The London based, Look Left Look Right, the interactive and verbatim theatre company brings their show based on Hurricane Katrina to this year's festival. August 2 - 26 @ The Underbelly, Cowgate. "Look Left Look Right investigate the true cost of the BP oil spill and its impact on our daily lives. Told by those directly affected from families of the victims to local fishermen and Peak Oil scientists, this compelling documentary play explores word for word the disaster and its consequences." - Edinburgh Fringe

The London writer Chris Goode & Company in association with The Unicorn Theatre bring their verbatim play about childhood to the festival. August 14 - 26 @ Traverse Theatre. "We asked 30 eight to 10-year-olds to tell us about their lives, their thoughts, their world. In Monkey Bars, their words are spoken by adults. Not adults playing children, but adults playing adults, IN adult situations." - Edinburgh Fringe

The British company, curious directive, presents their multimedia performance spectacle. August 1 - 27 @ Pleasance Dome. "'curious directive' conjure a world where multimedia, movement and sound unpick Britain's relationship to artefacts, mining and the secret life of ants. An epic, thumping, passionate story asking questions about the relationship between our past, present and into eternity." - Edinburgh Fringe The corresponding video is from the curious directive showreel.

The Newcastle based Northern Stage in association with Soho Theatre present five short plays by Will Eno. August 9 - 25 @ Northern Stage at St. Stephen's. "A bunch of people with something on their mind. A coach with an awkward confession to make. A spokeswoman who doesn't know what to say. A man and a woman who want to fall in love, but aren't sure how. Oh, and these people want to take your picture, so just act natural, ok? Sharp, witty and playful, these five very short New York plays by award-winning playwright Will Eno, reveal the terrible hope and hilarious uncertainty of being alive." - Edinburgh Fringe

Two Florida based professors bring their documentary dance piece about Darfur to the festival. August 6 - 10 @ theSpace at Surgeons Hall. "University of South Florida School of Theatre and Dance Professors Fanni Green and Jeanne Travers collaborate on an original theatre/dance piece motivated by the ongoing genocide." - Edinburgh Fringe

The Delta Theatre brings their theatrical adaptation of Royal Scots member Paul Finegan's poems about war to the festival. All proceeds from the show go to military charities. August 8 - 17 @ The Royal Scots Club. "A compelling theatre adaptation and performance of poems set in Afghanistan and Iraq. Two actors bring those conflicts and their universal themes alive, to mesmerise, entrance, shock and captivate. A kaleidoscope of beauty and searing realism dealing with issues as ancient as life itself." - Edinburgh Fringe

The Cape Town, South Africa based Fugard Theatre bring their Athol Fugard play about love across color lines in Apartheid South Africa to the festival. August 2 - 27 @ Assembly Hall. "A black man and a white woman meet secretly, in the library where the woman works, to make love and share their hopes and fears. They are eventually discovered, arrested and charged under the infamous Immorality Act. The play is a compelling and deeply moving love story in which the physically and emotionally naked lovers expose not only their bodies but also their deepest longings for personal and emotional freedom." - Edinburgh Fringe

Inspired by the war in Bosnia and other ethnic conflicts, Polish theatre company Teatr Biuro Podróży bring their chilling site-specific performance to the festival once again. August 14 @ the Old College Quad. "[Carmen Funebre] describes war from the victims' point of view and shows the universal images of the condition of displaced people. It has been presented in 50 countries all over the world." - Edinburgh Fringe

The interactive play written and performed by Trevor T. Smith explores what it means to lose one's mind to dementia. August 3 - 25 @ theSpace on the Mile. "Poignant yet humorous - the story of disempowered old age. The wryly intelligent text allows the audience to empathise with the state of being, called dementia." - Edinburgh Fringe

The brilliant actor, comedian, and improviser who performed a multi-character one woman show at last year's fringe, returns this year with something similar and equally as hilarious. August 1 - 27 @ Pleasance Courtyard. "Cariad Lloyd, returns with old favourites Andrew (the child stand-up) and brand new joys - Mrs Lynch (David's mum), Moomin Mama (Scandinavian detective), HSBC (Helena Susan Bonham Carter), Joey Bechamel (new girl) and other bizarre delights, in her follow up to last year's incredible smash hit." - Edinburgh Fringe The corresponding video is Cariad Lloyd's showreel.