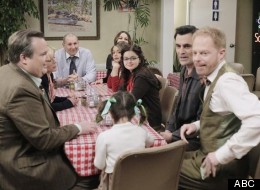 "Modern Family" Season 4 is shooting and Julie Bowen (Claire) and Sofia Vergara (Gloria) shared photos and thoughts about the season on their twitters.
"Modern Family" Season 4's production was recently threatened by a contract dispute that caused the cast's first table read to be cancelled last week. However, "Modern Family" stars Sofia Vergara, Ed O'Neill, Julie Bowen, Ty Burrell, Eric Stonestreet and Jesse Tyler Ferguson reached a salary agreement with 20th Century Fox and dropped their lawsuit, leading the entire cast to return to work.
Bowen took to Twitter to share news about the first day of shooting:
@itsJulieBowen

Julie Bowen
First day back of Season Four on Modern Family! Fantastic in every way including Ty's homage to Freddy Mercury.
http://t.co/ksRFagz8
And here's the photo she uploaded of Burrell, her on-screen husband, looking a little different:
Julie Bowen on WhoSay
Sofia Vergara also tweeted about being back on the set of "Modern Family" and included a photo of her with Rico Rodriguez (Manny):
@SofiaVergara

Sofia Vergara
Sofia Vergara on WhoSay
"Modern Family" Season 4 premieres Wednesday, September 26 at 9 p.m. ET on ABC.