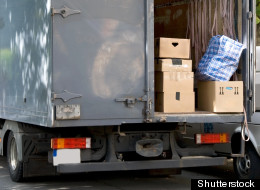 Sometimes, when a moving company has all your earthly possessions boxed up in a truck, they take it as a license to do whatever they like -- charge you extra, hold onto your stuff indefinitely or even threaten you if you don't cough up extra cash.
A new law aims to change that.
The Transportation Department will be able to charge unscrupulous movers a minimum penalty of $10,000 if they try to squeeze customers for extra money, under a law signed by President Obama earlier this month, according to USA Today and The Wall Street Journal.
Bad experiences with movers -- especially with individuals or companies that don't have a license -- are all too common. The WSJ cites a recent survey by the consumer review site Angie's List in which 38 percent of respondents said they'd run into problems during a move, like stolen items or unexpected charges. And the Federal Motor Carrier Safety Administration, a division of the Transportation Dept., said that it received 2,851 complaints about moving companies in 2011, a 17 percent jump over the previous year.
The Better Business Bureau received more than 9,000 complaints against movers in 2011, according to a May press release.
The Transportation Department's new authority will only apply to interstate moves, as opposed to movers that do not cross state lines.
Among the moving horror stories that have surfaced in recent months: a woman in Washington says the owner of a moving company threatened her and held her possessions hostage; a woman in Georgia says she has paid thousands of dollars more than originally estimated, and is still waiting for her moving company to ship her things down from New Jersey; and another woman in New Jersey says her movers jacked up the price once her things had been loaded onto the truck -- and then said they'd give her a discount if she slept with them.
USA Today also reports on a New Jersey man -- what's the deal, New Jersey? -- who says his movers charged him hundreds of dollars extra after he had to make an emergency trip to the hospital that postponed his move by two days.
Have you ever been the victim of a moving-company scam? Please share a comment or email money@huffingtonpost.com.
Fraudsters feigned interest in lonely online romance seekers to rob victims of about $50 million last year.

Phony debt collection agencies have pressured victims into giving up millions of dollars. The Federal Trade Commission recently closed down two California-based companies with call centers in India after they defrauded Americans out of $5 million over the past two years.

Craigslist and eBay are a playground for scammers. Consumers have sent payments to places like Nigeria for items advertised online only to discover they have been scammed. Last year, Romanians pretending to be U.S. citizens put fake ads for pricey items on eBay and Craigslist, defrauding Americans out of more than $100 million.

Canadian police arrested a man who tried to take a $70,000 processing fee from an elderly Californian woman who believed she was going to win a $7.5 million lottery prize in April. More recently, eight Jamaican swindlers accused of duping Americans in lottery scams were also arrested.

Fake charity organizations come out of the woodwork to exploit the generosity of others, especially during times of disaster. Most recently, an organization that claims to help disabled veterans called Disabled Veterans National Foundation (DVNF) took millions of dollars from donors without spending the money on veterans.

Scammers targeting struggling homeowners have offered false services to help with mortgage settlements. Mortgage foreclosure scams have shot up 60 percent in 2012 as new federal programs for mortgages have provided avenues for fraudsters to exploit.

Scam complaints related to travelling surged right before spring break last year. Crooks defrauded grandparents out of money when their grandchildren were travelling abroad. The scammers, who find out about the travel plans from places like social media sites, pretend to be the grandchild asking for wire transfers on the phone. The scams have involved scammers pretending in an email to be a victim's travelling relative who has recently been mugged or has lost their passport.

Although there isn't much data on how often it occurs, food scams can pose a tremendous health risk. The chances of dilution and counterfeiting increase when food is imported from other countries, and some foods like fish and olive oil are particularly prone to adulteration.

Scammers have sold drugs to online consumers and then posed as government agents asking the buyers to pay money to avoid jail time. A Texas woman killed herself after being caught up in one of these drug schemes.

Credit card breaches allow fraudsters to make charges on other peoples' cards after getting a hold of numbers. Global Payments Inc., a third party payment processing service for MasterCard and Visa, made headlines in April for reporting that over a million card numbers had been compromised from their system, according to CNET.