Delaware Beach Houses For Sale: Oceanfront Living For Millions, A Bike Ride Away For Much Less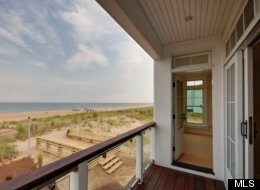 You deserve a Delaware beach house -- a gigantic one that's right by the boardwalk.
On the days you aren't out swimming or playing skeeball, eating way too much fried food for your own good, you'll sit on your rooftop deck, sipping iced tea -- or champagne, as you prefer.
It's your house. You can watch the hoi polloi frolic on the sand.
That's all yours for many million dollars. For far, far less -- less, even, than most D.C.-area housing -- you can get yourself a perfectly adorable two or three bedroom house or condo in the Rehoboth Beach area, with just a quick bike ride to the beach and boardwalk. Just think, with all the money you're saving on that sort of place, you can afford a brand new bike and your weight in seafood.
Now let's indulge some beach real estate fantasies, shall we?
Rehoboth Beach Real Estate
This is the house you were born to own. Six bedrooms, 7 baths, ocean views from every corner of the house, more decks than you could possibly appreciate in one lifetime. And separate guest quarters. Here's the listing.

Oceanfront living is lovely. Five bedrooms, six baths, an open floor plan, a rooftop deck -- even an elevator. Here's the listing.

This gorgeous house is both canal-side and close to the ocean. It's got four bedrooms, five baths, sunset views and a 40-foot dock. Here's the listing.

Get away from it all while being within walking distance of it all. This house is like an exceedingly luxurious cabin, with loads of camp-like charm, on the canal and walking distance to the boardwalk and beach. Four bedrooms, 3 baths, with fireplaces, a sunroom and lots of trees.Here's the listing.

This 2-bedroom, 2 bath ocean-front penthouse condo may not be in the world's most beautiful building, but the view is great. And less than $1 million! Here's the listing.

Six bedrooms, three baths, multiple decks, ocean views and you can walk to the beach from this house. We see a lot of fun things happening at this place. Here's the listing.

This two-bedroom, two-bath condo has amazing ocean views. And it's an awfully pretty unit. Here's the listing.

What this seven-bedroom, six-bath house lacks in beach proximity -- it's three miles from the ocean -- it makes up for by having its own backyard cottage. The house is a working B&B now. It could stay that way. Here's the listing.

This three-bedroom, two-bath house isn't gorgeous, but it's right by the bay -- and the price is hard to beat. Here's the listing.

Sure, it's a mile to the beach, but with the money you'll save on this two-bedroom, three-bath condo you can afford a new bike. Here's the listing.

This three-bedroom, two-bath house is adorable, if not super close to Rehoboth Beach's main attractions. Here's the listing.

This two-bedroom, one-bath cottage is much closer to the beach than you'd expect at this price. Here's the listing.

This amazing seven-bedroom, five-bath ocean block home is being sold furnished -- which is great if (like ours) your taste tends toward zebra-striped rugs. Here's the listing.

This gigantic house is on Ocean Drive, which tells you about all you need to know about this waterfront property. Eight bedrooms, nine baths, and an ocean view. Here's the listing.

Six bedrooms, six baths, a private beach walkway. It's our beach dreams come true. Practical, too -- the house has automatic hurricane shutters. Here's the listing.
Flickr photo by Lee Cannon, used under a Creative Commons license.