In a recent work by the Gao Brothers, we see Chairman Mao Zedong's firing squad taking aim at Jesus. The piece, titled, "The Execution of Christ," (2009) is forbidden to return to China due to its controversial depiction of the leader; however, it is now is being exhibited for the first time in Europe at SHOWStudio in London.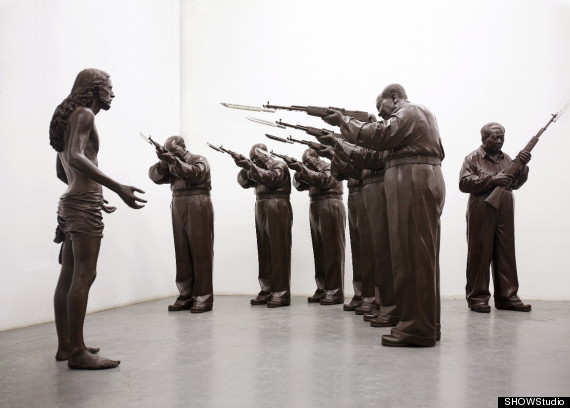 Although many artists use religious and political iconography to get a rise out of their audience, not all creative duos have such an intensely personal relationship with the subject matter. When the Gao Brothers were young children in 1968, their father was taken away and jailed by Chairman Mao's army. He never returned. The brothers have since banded together to create art that addresses injustice, oppression, violence and brotherhood. Many of their works re-appropriate Mao's iconic image, making the figure bow in remorse or engage in sexually submissive acts.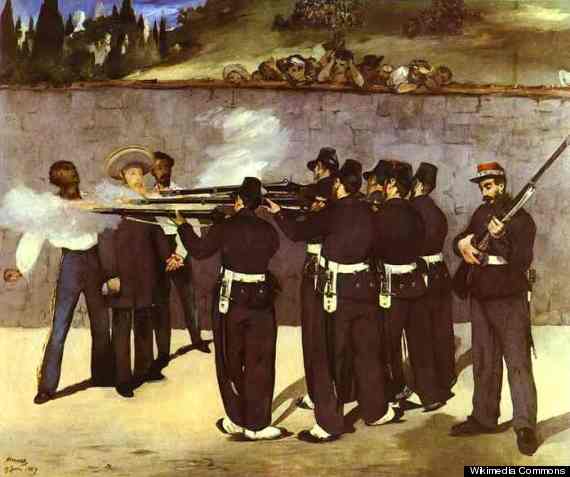 In their most well-known work, Mao and a firing squad aim their weapons at Christ, the pose mimicking Edouard Manet's "The Execution of the Emperor Maximilian of Mexico." Manet's original depicts the murder of a member of Austria's Hapsburg family as a foreign interloper. The Gao Brother's bronze sculpture eternally moulds three separate narratives, that of Maximillian, Mao and Jesus, as well as their own life story, into one. The piece depicts the oppressive rituals of Mao's regime, threatening violence to anyone who stood in his way.
The sculpture certainly grabs your attention, but does the piece pack too many taboos into too small a space to convey its message? A Chinese art student expressed his criticism of the Gao Brothers to the New York Times, saying "I understand what they're trying to say, but I think their pieces are sensationalist — they're too direct and gaudy."
"The Execution" is the centerpiece of SHOWStudio's exhibition "Death," surrounded by works that similarly access the transitional period between life and death. Although death is normally viewed as a final destination, when Mao's soldiers aim their guns at their victim, they are establishing a potential for rebirth.
What do you think of the Gao Brothers' work? Is it too contentious to communicate its message or do you find its fearlessness inspirational?
"The Execution of Christ" will show until August 31 at SHOWStudio in London.
Correction: A previous edition of this article stated that the Emperor was killed when the French took hold of Mexico. This is incorrect, and we regret the error.
See a slideshow of the work below, and let us know your thoughts in the comments section.
SUBSCRIBE TO & FOLLOW CULTURE SHIFT
Every Friday, HuffPost's Culture Shift newsletter helps you figure out which books you should read, art you should check out, movies you should watch and music should listen to. Learn more