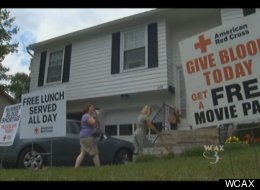 Instead of mulling over its alarmingly low blood supply, the American Red Cross is throwing parties.
To help boost a blood supply that's dipped to a 15-year-low, the Red Cross is hosting mobile blood drives in the comfort of donors' homes, WCAX reports. Since the nonprofit can't organize drives at schools during the summer months, it's making up for lost pints by bringing equipment and technicians to people's pads.
Chris Frenette, of Winooski, Vt., is one such host who opened up her house to guests for food, drinks and the good deed of donating blood.
"[These drives are] saving lives, and that's what I'm committed to doing," Frenette told the news outlet.
Frenette welcomed 12 "partiers" who were somewhat shocked by the unconventional facilities.
"We came driving down on the road and it was just a residential home, and I was like 'Uhhh, it's a little weird,'" Ryan Gentry told the news outlet.
"Weird" or not, getting upwards of 12 people to donate is critical during the slow season, considering that one donor can save three lives, according to the Times Record News.
But ringing in a good deed with a soiree isn't a new concept for the 131-year-old nonprofit.
While a community in Ventura County, Calif., learned about disaster readiness and gave blood at a Red Cross event, they also nibbled on eats from food trucks and socialized with friends, according to vcstar.com
"Our theme is preparing our community one block at a time," Jim McGee, CEO of the American Red Cross Central Coast Region, told the news outlet. "We're trying to provide some free resources, some education, a chance to learn a little bit about what the Red Cross does and have an opportunity to meet our neighbors."
Find out how you can host a blood drive here.
Click through the slideshow below to read inspiring stories of blood donors who have made giving a regular part of their routine.
SLIDESHOW:
When Dean Willis' father-in-law needed blood after getting heart-bypass surgery in 1975, he unhesitatingly stepped in to help, News4ajax.com reports. Since then, the coveted O-positive blood donor has given 100 gallons of blood and saved 2,000 lives. "I guess it's a cliché, but you know, it makes me feel good," Willis told the news outlet.

Paul Olsen, 79, donated his 400th pint of blood in August, according to Mainlinemedianews.com. The Pennsylvania native donates platelets, which is key to helping cancer patients, and gives twice a month. "I really feel good [about giving] because it helps other people," Olsen told the news outlet. He hopes to ultimately hit his 500-pint goal.

Honored with the "Golden Heart Award" from the Heartland Blood Centers for having donated blood 200 times, Warren Krup continues to give, despite a disability. "I get to sit and take a break, and it saves a life," the 52-year-old Illinois native told the Courier News. "Why wouldn't you want to do that?"

About 40 percent of dogs are universal donors, making Sparkle, a California-based rescue Greyhound, a critical lifesaver for pooches in need. "For every unit of blood that she gives, she will help at least two other dogs," Mary Beth Bartel, Sparkle's owner, told ABC. Sparkle donates once a month and her name is included on a 24-hour emergency call list.

When Ralph "Rocco" Russo hit his 300th donation at the Dana-Farber Cancer Institute, nurses honored him with a cake, the Boston Channel reports. But, the true reward for Russo is knowing that he's helped save hundreds of lives, including Nicole Sorensen, who battled -- and overcame -- cancer when she was 14. "People will give once. People will give twice," Sorensen told the news outlet. "But to give 300 times every other week religiously is incredibly moving."

Barbara Brinkmann has been donating blood since she was 16-years old, KENS5 reports . "I do it on a regular basis and I enjoy doing it," Brinkmann told the news source. "It's a wonderful way to give back to the community." For her generosity, the San Antonio, Texas resident was rewarded with a brand new 2012 Toyota Tundra pickup truck. Naturally, it's bright red.